India's Submarine Fleet Faces Further Delays
Is New Delhi's submarine fleet in a state of crisis?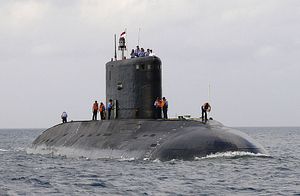 This week, Indian Defense Minister Manohar Parrikar announced that the induction of the first of six Scorpene-class submarines will have to be delayed to an unspecified future date. Back in November 2014, the Indian Defense Ministry still maintained that the first vessel would be delivered in September 2016. This new delay, however, makes the on-schedule delivery highly unlikely.
The 1,750-ton, 67-meter Scorpene-class — capable of diving up to a depth of 300 meters —will be equipped with SM-39 Exocet anti-ship missiles. The class is supposed to fulfill a wide range of missions sets for the Indian Navy including anti-surface  and anti-submarine warfare, special operations, intelligence gathering, minelaying, area surveillance, and strikes against land-based targets, according to naval-technology.com.
New Delhi assigns particular importance to building up a modern fleet of submarines. One reason is that the South Asian nation wants to be able to project power deep into the Indian Ocean and dissuade the presence of Chinese military vessels. Another rationale is Pakistan's effort to upgrade its submarine fleet.
Chietigj Bajpaee, an expert on the Indian military at King's College in London summarizes New Delhi's efforts to date:
"The Indian Navy also has a particular focus on enhancing the country's submarine fleet with the construction of Scorpenes from France, the leasing of submarines from Russia, and upgrades to India's Russian and German-made submarines. The development of Arihant-class nuclear-powered submarines has also completed the development of India's nuclear triad."
In October 2005, a $4.16 billion contract (known as Project 75) was awarded to the French industrial group DCNS  to build six Franco-Spanish Scorpene-class diesel attack submarines (with an option to build six more) at the Mazagon Docks in Mumbai, India. The deal involved extensive technology transfer agreements. However, so far, not a single submarine has been delivered. According to India's defense minister, this week's delay is caused by Mazagon Docks Limited (MDL) facing difficulties procuring certain materials from foreign vendors.
India's submarine fleet is in a state of crisis. Readiness rates are below 40 percent and some vessels (especially the SSK U209 class) need urgent upgrades. On paper, the fleet currently consists of 16 boats: ten Russian SSK Kilo (Sindhugosh) Class, four locally built SSK U209 (Shishumar) Class, a leased nuclear-powered SSN from Russia (INS Chakra), and the INS Arihant ballistic missile submarine (which only began sea trials in December) . However, according to local media reports, the number of active duty subs is now down to 13 diesel-electric submarines and the nuclear-powered INS Chakra.
Nevertheless, the Indian Navy is rated as NATO-quality, according to U.S. naval officers who conducted joint drills with Indian squadrons.
The Indian government has allocated approximately $16 billion for the expansion of its naval forces. India is already the world's largest weapon's importer (in 2013, New Delhi spent $6 billion on buying equipment), largely due to a moribund domestic defense industry. India is expected to spend $100 billion over the next decade on a defense upgrade program.