Jokowi's Inglorious Presidency Already Under Heavy Fire
With his hard line on the death penalty, Indonesia's president risks damaging his country's reputation abroad.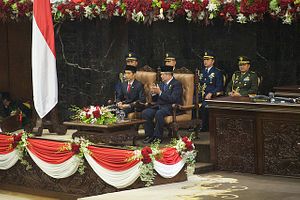 Joko Widodo has hardly had a glorious start to his presidency. The man who tackled the establishment and became the reform-minded darling of Indonesia's middle classes in the run-up to last year's election now seems to be at war with everyone.
Indecisiveness at home has caused his approval rating to tumble from 75 percent to 46 percent. It wasn't helped by widespread perceptions that former president Megawati Sukarnoputri, who is also head of Jokowi's ruling PDI-P, was actually in charge of the country.
Meanwhile, his hang 'em high attitude to the gallows has outraged Europe, Brazil and Australia – all have citizens facing firing squads. And then U.S. automaker General Motors announced that it would be ending its vehicle manufacturing in Indonesia amid a local currency sell-off. Rate cuts and weaker growth has pushed the rupiah to its lowest levels since the 1997/98 financial crisis.
Elsewhere, the Netherlands and Brazil have recalled their ambassadors after their nationals were executed for drug offences. Another Brazilian and two Australians are also due to face the firing squad in the coming days, which has justifiably outraged their respective civil society groups back home.
None of which Jokowi has handled well.
In a tit-for-tat exchange with Brasilia, Jakarta has threatened to re-evaluate its planned acquisition of 16 fighter jets and multiple launch rocket systems from Brazil after Indonesia's new ambassador was snubbed at formal engagements. Australia, running out of options, is clinging to the notion that Canberra's "special relationship" with Jakarta might work a miracle.
Australian Prime Minister Tony Abbott has done about as much as he can in speaking-out against the death penalty for the two Bali Nine drug smugglers. For now, the Australian prime minister is trying to keep things positive: "The fact that the president of Indonesia and the prime minister of Australia can talk candidly about these issues is a sign of the strength of the relationship and it's a sign of the depth of the friendship between Australia and Indonesia."
Indonesia's cruel anti-drug laws – for foreigners – are among the harshest in the world, although the local trade in narcotics has always been as brisk as it is lucrative. But imposing the death penalty for such crimes appears anachronistic to many observers, and is damaging to Indonesia's international reputation.
On taking office in October 2014, Jokowi was hailed as a reformer, and an idealist with compassion. But the reality, sadly, could not be more different.
He has resisted pleas from the European Union, Brazil, Australia, and Amnesty International and pledged no clemency for drug offenders. In doing so, the Indonesian president has shored-up his tough guy image at home. But that has come at the cost of his standing as a regional leader, which is far more reminiscent of Malaysia's ruthless Mahathir Mohamad whose use of the gallows and divisive agenda stemmed more from winning support from the hard right elements in his own party, than from any sense of justice.
That lack of judgment and compassion will only damage Jokowi's presidency in the years to come.
Luke Hunt can be followed on Twitter @lukeanthonyhunt