Pakistan Tests New Air-Launched Cruise Missile
Pakistan's Ra'ad nuclear-capable, air-launched cruise missile has a 350 km range.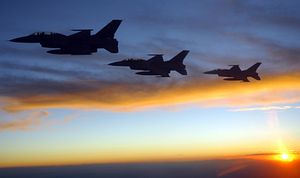 On Monday, February 2, Pakistan successfully tested a cruise missile with stealth capabilities capable of carrying conventional and nuclear payloads. The Hatf-VIII (Ra'ad) is an air-launched cruise missile with an operational range of 350 km and has been first tested by the Pakistani Air Force in August 2007. Other tests were conducted in 2008 with a Dassault Mirage III Rose fighter jet used as a launch platform and in 2011 and 2012 respectively. It is not known whether the weapon can also be launched from Pakistani F-16s. In the future, the JF-17 may also be a likely platform.  This week's test constitutes the fifth time that the Pakistani Air Force tested the missile.
According to media reports, the successful launch was lauded by President Mamnoon Hussain and Prime Minister Nawaz Sharif, who congratulated the scientists and engineers for their accomplishments. The Pakistani Army only tersely commented the test: "The state of the art Ra'ad cruise missile with stealth capabilities is a low altitude, terrain hugging missile with high maneuverability and can deliver nuclear and conventional warheads with pinpoint accuracy." The army also notes the missiles "strategic standoff capability" on land and sea, which implies that the army is planning to use this new weapon for precision airstrikes on both land and sea targets.
An article on IHS Jane's 360 quotes IHS Jane's Air Launched Weapons which argues that the missile is, "part of Pakistan's wide-reaching strategic missile development programme that includes short-, medium-, and intermediate-range ballistic missiles and ground-launched cruise missiles." The article furthermore states that, "the Ra'ad bears a resemblance to several proposed South African stand-off weapon projects such as MUPSOW and Torgos, and that Pakistan and South Africa have previously worked together in advanced weapons development."
The first Ra'ad test launch was announced on 25 August 2007. It was conducted over the Rawalpindi test range. Pakistan television footage showed the missile under a Mirage IIIEA ROSE-1 during take-off and in flight. Missile release and engine start were shown, followed by in-flight filming of the missile. It is not known if this test represented the first flight of the weapon, or was simply a point in an ongoing test programme. A second launch was reported in May 2008, a third in April 2011, and the fourth in May 2012.
Defense News quotes Mansoor Ahmed, lecturer in the Department of Defence and Strategic Studies at Islamabad's Quaid-e-Azam University, who commented on Pakistan's nascent triad and how the current test will improve Pakistan's strike capabilities.
"Ra'ad and the land and sea versions of the Babur cruise missiles offer diversification in targeting options, greater operational and deployable flexibility and increase the overall survivability of its deterrent force." He also points out that this is a move to counter India's "emerging proactive operation strategy," and that the missile will fulfill its deterrence role, "with added emphasis on counter-value targeting to offset India's strategic and conventional force modernization."
He further notes that the cruise-missile, "finally matured as an operational and deployable system," but "this might also be a batch test coupled with the possible completion/accomplishment of required miniaturization of suitable warheads for this system. Hence this test."
Ahmed also puts the recent missile test in the larger context of recent R&D developments within Pakistan: "Range remains the same; the only thing that might have improved is accuracy, guidance and control parameters, etc. Also this test comes at a time when plutonium production for miniaturized warheads is meeting the operational requirements, with the commissioning of the fourth production reactor at Khushab."
Meanwhile India, has tested its Agni-V intercontinental ballistic missile, which is capable of carrying nuclear payloads up to a range of 5000 km. Defense News quotes Air Commodore Kaiser Tufail: "The test firing was a typical combo of a technical upgrade timed with political signaling, something that both India and Pakistan have turned into an art form. Platforms like the Ra'ad have limited use as conventional weapons launching platforms, because a payload of 450-kilograms can do little harm unless launched in a shower of a few score, something that would be outrageously costly. Glide bombs are an economical choice for stand-off delivery of conventional weapons."