Prison Hostage Situation in Taiwan Turns Deadly … and Political
A botched prison break turns into a political melodrama with a tragic conclusion.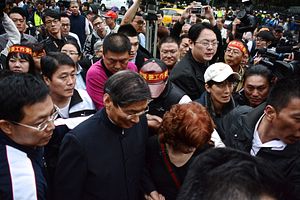 A dramatic hostage-taking situation at a prison in southern Taiwan took a tragic turn early in the morning of February 12 when the six hostage-takers, all inmates at the jail, failed in their bid to escape and turned the guns they had stolen from the prison's armory on themselves.
The situation at Kaohsiung Prison began a little before 4 p.m. on February 11 when the six inmates, led by Cheng Li-te, a member of the Bamboo Union triad who is serving a 28-year sentence for murder, pretended they were ill and were sent to the infirmary. Soon thereafter, they reportedly used scissors to take three prison officials hostage and were then able to break into the armory, where they seized four assault rifles, six handguns, and more than 200 rounds of ammunition.
The large prison facility in the southern port city houses more than 2,000 prisoners. The six inmates were all serving decades-long prison sentences on various drug-related and assault charges.
The Bamboo Union, one of the three main triads operating in Taiwan, is an ardent supporter of Taiwan's unification with China and is suspected of operating on behalf of the Chinese intelligence apparatus and/or United Front Work units.
By late afternoon, the prison was surrounded by more than 250 police officers, including SWAT teams.
After exchanging gunfire with prison guards who were trying to end the hostage situation, the hostage-takers traded the initial hostages for Prison Warden Chen Shih-chih and another senior official at the jail.
Things took an even more bizarre turn in the evening when the six inmates, cornered inside the prison, released a list of five demands, which Agency of Corrections Director Wu Sen-chang read verbatim on television. The first item on the list referred to the January 5 release of imprisoned former president Chen Shui-bian on medical parole. According to the inmates, Chen, the political firebrand who is serving a 20-year-sentence on charges of corruption, had "faked" his illness to secure his release. Why was it, they asked, that the former president could be released when they had no such chance. "Aren't we all equal before the law?" they continued.
Chen, a strong advocate of Taiwanese independence who was in office from 2000 until 2008, is reviled by Beijing and the more hardline factions of Taiwan's ruling Chinese Nationalist Party (KMT).
In another request, the inmates wrote that even though he is "not a good president," Ma Ying-jeou was a good minister of justice and had the ability to secure their release.
By then, the site had turned into a media circus. At some point, the inmates fired several shots at an unmanned aerial vehicle (UAV) that was being used by the media to provide coverage from the air. Every shot missed.
CtiTV, a TV station operated by the pro-Beijing China Times Group, was able to hold a 15-minute exclusive interview with one of the inmates.
Conspiracy theories began circulating among journalists and netizens when Chang An-le (aka "White Wolf") arrived at the site and requested to be allowed to negotiate with the hostage takers. Chang, a former leader of the Bamboo Union who served a decade in a U.S. prison for drug trafficking and played an indirect role in the 1984 assassination of journalist Henry Liu in California, was on Taiwan's most-wanted list for 16 years after he fled to China in the 1990s during a nationwide crackdown on organized crime. While in exile, he ran several businesses and it is believed that he developed close relationships with the Chinese Communist Party (CCP) and United Front Work cadres. While still in exile, Chang created his own political party, the Unification Party, which promotes unification under the "one country, two systems" formula. He even remotely orchestrated protests against the Tibetan spiritual leader the Dalai Lama during a visit to Taiwan in 2009.
He returned to Taiwan in June 2013, was immediately arrested upon landing, and was released on bail in the afternoon. He has been a free man since and has repeatedly involved himself in domestic politics by threatening members of civil society and the mayor of Tainan, offering protection for KMT officials, and deploying his followers as bodyguards for visiting Chinese officials who are often met with protests. The White Wolf is also affiliated with various pro-China organizations operating in Taiwan. His followers physically assaulted members of the Sunflower Movement in March and April 2014 during the 24-day occupation of the Legislative Yuan, a crisis that severely hampered President Ma's ability to continue negotiations with Beijing.
Although Chang claims that he is no longer a criminal or a leader of the Bamboo Union, it seems that he has enough connections to assume that he could play the role of mediator in the high-stakes prison hostage situation in Kaohsiung. The authorities decided otherwise, and Chang was denied access to the prison facility.
In another interesting twist to the story, ex-convict and debt collector Tung Nien-tai, who is close to Chang and also showed up in Kaohsiung, had recently suggested that prison inmates should riot. Among other things, Tung had decried what he called the "unjust" 18-year sentence for one of the hostage-takers and "deplorable" prison conditions for the inmates.
As dawn approached, the hostage-takers attempted a breakout but were pushed back by police. Their demands unmet, they released the hostages and made one last request: two bottles of kaoliang liqueur. That request was honored. Soon afterwards, the hostage-takers turned their guns on themselves and committed suicide. According to eyewitness accounts, four of the six bodies were stacked on top of each other, with the two others lying nearby.
Denied a chance to negotiate, Chang was fuming outside. "These are human lives! Don't they count, too?" he hollered.
Several questions remain unanswered about the incident, chief among them the overtly political nature of the hostage taking, which invites speculation that there may be United Front Work involvement. The fact that members of the pro-China Bamboo Union were involved, and that Chang An-le sought to play a visible role in the affair, compounds the uncertainty, and reaffirms the greater role that organized crime, perhaps with assistance from Beijing, is now playing in Taiwanese politics. Furthermore, according to many who were up all night following the developments in Kaohsiung, the crisis had a "stage-like" quality about it, a perception that was reinforced by the ability of media outlets to interview the hostage takers and the rather odd decision to read their demands on television. Though this remains in the realm of conspiracy until proven otherwise, the Taiwanese public will need answers.