White House to Reconsider Troop Withdrawal from Afghanistan
A White House meeting today will determine whether more troops will stay in the country in 2015.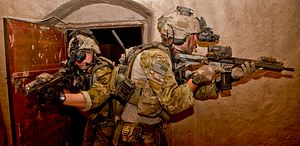 The White House is considering slowing down troop withdrawals from Afghanistan due to the enduring volatile security environment in the country. According to the Washington Post, President Barack Obama and his national security team will convene today to consider giving the commander of U.S. and NATO forces in Afghanistan, Gen. John F. Campbell, more flexibility in readjusting the withdrawal schedule based on the general's recommendation. Gen. Campbell will be present at the White House meeting today.
This is the second time that the United States is adjusting its withdrawal schedule. Back in December 2014, U.S. Defense Secretary Chuck Hagel announced that 1,000 more U.S. combat troops than originally planned would remain in Afghanistan into early 2015. According to White House officials, the request to retain more troops in the country came directly from Afghan President Ashraf Ghani.
However, the current slow-down will not alter the U.S. president's determination to end the U.S. military mission by early 2017, according to defense analysts. The Washington Post quotes a White House official as saying, "The defining elements of the plan are more or less intact. All we're looking at at this point is either variations within those or subtle variations of" the withdrawal schedule. He further notes that the national security team of the president is "cognizant of the fact that we've got to get in front of the so-called spring fighting season in Afghanistan."
The move to temporarily keep 5,500 U.S. troops in country, retain Kandahar airfield, and maintain regional training hubs is motivated by the growing number of casualties within Afghan National Security Forces, but also by the experience of the rise of the terror group Islamic State, partially caused by the United States' premature withdrawal from Iraq.
President Obama's nominee to be the next secretary of defense, Ash Carter, announced in written comments to the Senate Armed Services Committee that he would recommend changes in the United States' withdrawal schedule from Afghanistan. The Military Times notes that U.S. military commanders would prefer a "more ambiguous" withdrawal schedule. The Washington Post also quotes a former senior Pentagon official who argues that it is "hugely counterproductive to have this timeline for 2015 laid out the way it is."
A leading Republican foreign policy hawk, Senator Lindsey Graham (R-S.C.), attacked the administration's Afghan policy harshly in late January: "His decision to withdraw all of our troops by 2017 in Afghanistan is literally insane in light of Iraq. All of his military commanders are saying you should not set a date for withdrawal, you should withdraw based on conditions."