China, Japan Close to Crisis Management Breakthrough
Japan and China are close to finalizing a liaison mechanism — but it hinges on how Japan commemorates the end of WWII.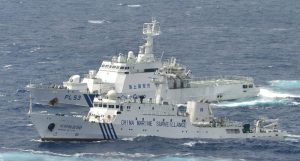 Since China-Japan relations began a slow thawing process with the meeting between their top leaders last November, officials on both sides have had one clear goal in mind: finalizing a consultative mechanism that will allow leaders to communicate in the event on a maritime or aerial emergency. Such a maritime and aerial consultative mechanism would be a crucial step toward preventing and managing crises, particularly in the disputed region surrounding the Senkaku/Diaoyu Islands. Today, a Chinese general told Xinhua that he believes such a mechanism is on the verge of being launched.
China and Japan agreed in principle to a maritime consultative mechanism all the way back in 2012, but crises in the relationship prevented much progress until quite recently. Talks held in Qingdao in September 2014 and in Japan in January of this year represented the first steps toward a concrete arrangement in over two years. The stated goal is to have the mechanism in place by the end of this year.
According to General Qian Lihua, who formerly headed the Ministry of National Defense's foreign affairs office, that goal is within reach. Qian told Xinhua that China and Japan's defense departments can to a consensus on many of the details during their January meeting. That includes an expansion of the scope of the agreement, from a "maritime liaison mechanism" to a "maritime and aerial liaison mechanism" (a crucial change, as Japan and China have increasingly taken to scrambling jets to respond to patrol flights in the disputed region). Qian also says that "the basic technical conditions" for launching the mechanism are in place.
However, Qian added a caveat: further progress on the liaison mechanism depends on Japan's actions moving forward, particularly with regard to Prime Minister Shinzo Abe's upcoming statement on the 70th anniversary of World War II.  "We are very worried about Japan's political orientation… The country now stands at a crossroads of whether to maintain its pacifist constitution or revive militarism," Qian said. He added that China "will be watching closely" when Abe gives his statement, warning that bilateral relations will suffer if Abe distances himself from previous statement made by Japanese prime ministers.
The implication is clear: the China-Japan consultation mechanism could be jeopardized if Abe's statement doesn't include expressions of "deep remorse" for Japan's "colonial rule and aggression" (language founded in the Murayama and Koizumi statements).