China's Plan to Dominate World Markets
China hopes SOE mergers can result in internationally-respected brands.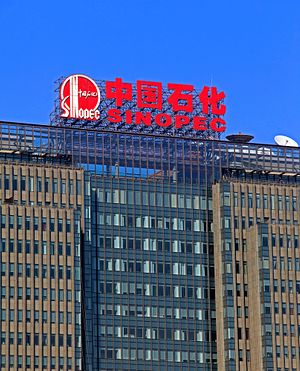 China will consolidate state-owned enterprises (SOEs) into mammoth companies, all with the hopes of winning China more of the global market share in key sectors – and the international prestige that entails.
SOE reform is only one piece in Beijing's larger attempt to create globally attractive Chinese brands. During his work report to the National People's Congress, Premier Li Keqiang introduced the "Made in China 2025" initiative. That's only the first leg of a 30-year plan to transform China "from a big manufacturing power to a strong manufacturing power," as China Daily explained. China may be the "world's factory," but its own domestic products and companies are not internationally competitive. The "Made in China 2025" plan aims to fix that, by focusing on "an innovation drive, intellectual property and green development."
The initiative also called for "enterprises' merger and reorganization" to promote competitiveness in global markets. That's precisely what will happen to China's SOEs, Reuters reports.
Beijing will pay particular attention to boosting China's competitiveness in a number of key sectors, including railways and nuclear power plants, two areas where China is already actively promoting exports abroad. Those sectors will see the first round of consolidations, according to Reuters, beginning with previously announced mergers between China CNR Corp. Ltd. and China CSR Corp. Ltd (two locomotive manufacturers) and between China Power Investment Corp. and State Nuclear Power Technology Corp.
China also hopes to expand its competitiveness in other fields, including automobiles and aircraft (see, for example, the media push anticipating the first flight by China's domestically-produced commercial jet, the COMAC C919). Shipbuilding is another field where China might pursue mergers to boost competitiveness.
A report in Beijing News (republished by People's Daily) also referenced previous rumors that China will merge its two largest oil groups, Chinese National Petroleum Corp and Sinopec. China's state-owned oil giants have recently come under heavy fire. They were fingered as a leading contributor to China's air pollution by Chai Jing in her documentary Under the Dome (banned from Chinese websites after amassing 200 million views). Chinese state media have also warned repeatedly about a corrupt "petroleum clique" formed under ousted politician Zhou Yongkang during his time at CNPC. Merging CNPC and Sinopec might be a way to drastically shakeup current leadership, but Reuters sources believe this is unlikely.
Other possible mergers involve China's telecommunications sector. Beijing News points to rumors of China Mobile merging with a provincial telecoms firm and China Telecom merging with China Unicom, which would create two massive telecommunications firms monopolizing the Chinese market. Those rumors remain unconfirmed, however.
Setting out procedures for mergers and consolidation will be high on the agenda of China's new Small Leading Group for State-Owned Enterprise Reform, established last week. That group, led by China's State Council, is expected to implement a plan for SOE reform before the end of the year. Mu Hong, vice chairman of the National Development and Reform Commission, told Beijing News that SOE reform is an essential goal for 2015. According to experts interviewed by Beijing News, those reforms ultimately aim at making SOEs more efficient and better-run.
China's top leaders see SOE mergers as a way of killing two birds with one stone – addressing the efficiency and governance issues that have plagued SOEs in recent years even while creating mega-companies that will ideally take their place alongside international giants.