India and Japan Inch Closer to Surveillance Aircraft Deal
New Delhi and Tokyo are inching closer to finalizing a deal for the sale of Japan's US-2 amphibious aircraft to India.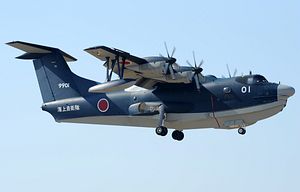 As India and Japan continue to strategically converge amid mutual fears regarding China's rise, they have deepened their defense cooperation. Notably, India will likely be Japan's first export partner for military hardware under Japanese Prime Minister Shinzo Abe's principles on defense equipment exports. The Japanese government recently lifted its decades-old self-imposed ban on exporting weaponry to other countries.
The two governments look all set to conclude a landmark deal for the sale of Japanese amphibious search and rescue (SAR) aircraft, a deal that has been in the works for years. India will likely purchase 12 ShinMaywa US-2 short take-off and landing (STOL) SARs this year (down from an earlier estimate of 15). Negotiations for the sale of the US-2 began in 2011 under the Democratic Party of Japan, first under Prime Minister Naoto Kan and then under Yoshihiko Noda.
The US-2 itself is a reliable and capable surveillance aircraft with a range of around 4,700 km, capable of transporting its crew and cargo from Indian territory to anywhere in the Indian Ocean region within 3 hours; its most notable feature is its ability to take-off and land at sea. Once acquired, India will likely station the US-2s off the Andaman and Nicobar Islands in the Bay of Bengal, using the aircraft to conduct surveillance of the eastern Indian Ocean region. Indian military sources have also told the press that the US-2 will allow the Indian military to support friendly vessels in Southeast Asian waters, potentially detecting pirates and other threats.
Additionally, the US-2's versatility and ability to land at sea make it well-suited to assist military and civilian ships that break down at sea or need emergency assistance. The search-and-rescue, anti-piracy, and humanitarian assistance applications of the US-2 make it a compelling option for the Indian Navy. Additionally, amid Indian fears that the Chinese Navy will add the eastern Indian Ocean into its regular area of operation, the US-2's surveillance capabilities haven't been a tough sell domestically.
Now, I will admit that I predicted early last year, following Japanese Prime Minister Shinzo Abe's visit to New Delhi as the chief guest for India's Republic Day celebrations, that the US-2 deal was a fait accompli and would likely end up completed soon. Sadly, I underestimated the complexity of India's demands for co-production and domestic assembly. Although the deal is politically uncontroversial in both New Delhi and Tokyo, the technicalities of exporting the Japanese SAR aircraft have bogged down a swift conclusion of the ShinMaywacontract.
Recent reports note that ShinMaywa officials are optimistic about concluding the deal in 2015. Aviation Week reports that an Indian order for nine US-2s is likely to go through this year. IHS Jane's 360 notes that the deal is waiting to clear a series of bureaucratic hurdles, including approval by India's Defense Acquisition Council (DAC). Jane's also quotes senior Indian Navy officials who noted that the $1.65 billion earmarked for the US-2 acquisition was a prominent inclusion in a December 2014 meeting of India's Services Capital Acquisition Plan Categorization Committee (SCAPCC). Under current plans, the Indian Navy would directly import two US-2s and eventually license and assemble an additional 10 in collaboration with an Indian manufacturer. There is a possibility that New Delhi may expand the order to purchase as many as 15-18 units.
The US-2 may not be the most prestigious or technologically impressive piece of hardware, but its acquisition by the Indian Navy will be an important milestone in India-Japan relations. India will have become the first country to purchase Japanese military hardware following the lifting of Japan's self-imposed ban on weapons exports. Japan will have successfully concluded a deal for the export of defense technology, building momentum for other deals around the Asia-Pacific. Given the broader expansion of defense ties and cooperation on maritime security between India and Japan, the conclusion of such a deal would send an important message to China. While in Tokyo last fall, Indian Prime Minister Narendra Modi noted that India and Japan "intend to give a new thrust and direction to our defense cooperation, including collaboration in defense technology and equipment, given our shared interest in peace and stability and maritime security." The conclusion of the US-2 deal is a surefire way to achieve that in the short-term.