Narendra Modi's Active Indian Ocean Diplomacy
The Indian prime minister has recently visited three small but strategically significant Indian neighbors.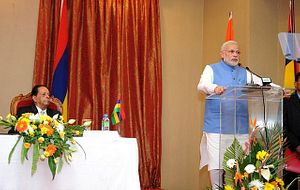 The power equations in the Indian Ocean Region (IOR) have implications not only for the littoral states but for the entire Asia-Pacific region. Through the Indian Ocean run some of the busiest sea lanes globally, as oil and natural resources traverse from west to east to feed the burgeoning needs of the world's second largest economy, China, and the country it dislodged from that slot, Japan. By virtue of its size, geographic location, and economic and military potential India is expected to play a leading role in keeping the sea lanes of communication through the Indian Ocean safe for international trade and commerce.
The growing might of the Chinese Navy and its outreach to IOR nations is a concern, one not entirely limited to India. China's aggressive posture in the South China Sea is shaping regional apprehensions. Vietnam, Malaysia, Indonesia, Brunei, Taiwan, South Korea, Philippines, Singapore, and even Australia and Japan are anxious. Given its assertiveness in the South China Sea, Chinese plans of a Maritime Silk Route ring bells in many a capital.
It's essential that we grasp the contours of the Maritime Silk Route before we progress further. The route originates from Quanzhou in Fujian province and, after berthing at Hainan, passes through the Malacca Straits to find anchorage at Kolkata, India. The Chinese map makes no mention of Sitwe in Myanmar or Chittagong, Bangladesh as possible stopovers enroute. Beyond Kolkata, the route conspicuously skirts Hambantota, Sri Lanka, a port facility that Mahinda Rajapaksa, the recently ousted Sri Lankan president, was laying open to Chinese interests. The Silk Route continues west and traverses the Red Sea to dock at Athens and thereon to Venice where the confluence of the maritime and land silk routes occur. Gwadar, Pakistan, where the Chinese have built a mammoth deep-sea port, is also ignored.
Indian Prime Minister Narendra Modi recently undertook a five-day tour of three Indian Ocean countries, displaying an active foreign policy intent after a period of prolonged drift. His ports of call, Seychelles, Mauritius and Sri Lanka, are located strategically in the Indian Ocean region.
Long Overdue
Modi's first port of call was Seychelles. The island nation, strategically located when viewed in the context of sea lanes of communications, has long been an Indian ally. A visit by an Indian head of government was long overdue – the last was by Indira Gandhi in 1981. Then Chinese President Hu Jintao visited Seychelles in 2007, which subsequently offered docking and berthing facilities for Chinese ships on anti-piracy operations. Obviously, New Delhi has taken notice. It was clearly past time to give the relationship a boost.
Modi started his visit by gifting a Dornier aircraft. Four agreements were subsequently inked. These included agreements on cooperation in hydrography, renewable energy, infrastructure development, and the sale of navigation and electronic navigational charts.
The agreement to develop infrastructure on Assumption Island is of greater significance. The island development project provides an opportunity for New Delhi to place strategic assets in the Indian Ocean. Modi also launched a Costal Surveillance Radar Project.
The Indian prime minister's next stop was Mauritius, another country with which India has enjoyed decades of strong ties. In 1983, when the then Mauritian prime minister was anticipating a coup, his Indian counterpart Indira Gandhi is reported to have contemplated dispatching troops.
With Modi's visit, the two sides have signed five bilateral agreements or understandings. India has also extended a $500 million line of credit. The agreements cover the areas of ocean economy, cultural cooperation, the import of fresh mangoes from India, sea air transportation in the Agalega Islands, medicine, and homeopathy (widely practiced in India). Of greater significance is the proposed Indian assistance in developing the Agalega Islands. A statement by the Indian Ministry of External Affairs said the facilities would, "enhance the capabilities of the Mauritian Defence Forces in safeguarding their interests."
Modi was also chief guest at the Mauritius National Day Celebrations and addressed the Mauritian National Assembly. An Indian coastal patrol vessel was also commissioned as part of the visit.
Mauritius is among the largest sources of foreign direct investment in India. The two countries have agreed to fast-track the revision of their tax treaty. Misuse of the agreement has led to Mauritius becoming a favoured destination for hiding wealth. The issue has become a contentious one between the two countries.
Difficult Prospect
Next on Modi's itinerary was Sri Lanka, a far more difficult prospect. Delhi's bonhomie with Colombo has often been used as a plank by local politicians in the Indian state of Tamil Nadu to run down the central government. The sizeable Tamil population in Sri Lanka always demands deft maneuvering by an Indian prime minister. The pressures of Indian domestic politics and a drifting Indian foreign policy had created a gulf between two otherwise close neighbours that fought an insurgency on the island nation together, more than two decades back. Relations only worsened with Rajapaksa's strong tilt towards China. The last time an Indian prime minister visited Sri Lankan was in 1987.
Modi took up the challenge, and has handled it deftly. The balancing act was perceptible throughout the visit. In his talks and statements at Colombo, Modi emphasized the issues of accommodating "the aspirations of all sections of society, including the Sri Lankan Tamil community." He also spoke in favor of implementation of the 13th Amendment of the Sri Lankan Constitution, which guarantees a greater devolution of powers to Tamils, and urged new President Maithripala Sirisena to go beyond it. A rather bold itinerary took Modi into Sri Lanka's Tamil majority area of Jaffna. However, while at Jaffna, he visited the memorial for Indian Soldiers, an act unlikely to be viewed too kindly by Sri Lankan Tamils.
Amongst bilateral agreements signed are a customs pact, a credit line for $300 million, visa-on-arrival for Sri Lankan passport holders, and a $1.5 billion currency swap agreement to help the island nation keep its currency stable.
At Jaffna, Modi met the Northern Province chief minister and Tamil leader C V Wigneswaran. At a ceremony to mark the more than 27,000 houses constructed by India for Tamils in the region, Modi promised to deliver another 20,000 already committed by India.
The Indian prime minister also announced his country's support for the idea of Trincomalee becoming a petroleum hub. Sri Lanka's state-run Ceylon Petroleum Corporation and the local subsidiary of Indian Oil Corporation would drive the project. The complex has 99 storage tanks, each with 12,000 tons capacity. The assets are definitely of strategic significance.
Greater Role
For peace and progress in the region it's important that the Indian Ocean remain a zone of peace. In fact, the purposes of all stakeholders are served by its waters remaining open for transit to global shipping. Should the tranquility of the sea waters in the region be disturbed, the repercussions would be felt by nations further west in the Pacific.
Prime Minister Narendra Modi's visit has sent an audible message to IOR nations that India is ready to discharge its responsibilities in the area, proactively. There are problems to address, including piracy and conflicting interpretations of exclusive economic zones, but these need to be resolved within the ambit of international law and by recourse to dialogue.
Countries in the South China Sea have been urging India to play a greater role in the region. Certainly, Beijing needs to realize that its abrasive approach can be off-putting for smaller nations and only encourages them to coalesce as an anti-China group open to other influences. But should China be ready to share the resources of South China Sea with other nations, many of them legitimate claimants, perhaps a more conducive environment could be created to further the professed goal of its Silk Routes: economic growth.
SK Chatterji is a Brigadier (Retired) of the Indian Army. He writes on national defense and international security.