Putin's 'Red October': Russia's Deadliest New Submarine
Should the United States be worried?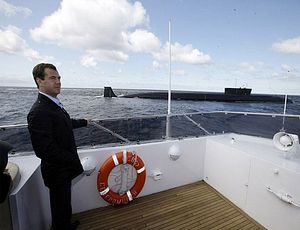 As a follow-up to my previous article "What to Expect from Russia's Pacific Fleet in 2014," I would like to take a closer look at Russia's new backbone of its maritime nuclear deterrence  – the Borei-class (aka Dolgorukiy-class), Project 955, fourth generation SSBN (Ship, Submersible, Ballistic, Nuclear) submarine. RT (somewhat predictably) called this new SSBN class, "the planet's most advanced nuclear deterrent tool."
Designed by Rubin Marine Equipment Design Bureau and built by Northern Machine Building Enterprise (Sevmash shipyard), the Borei-class ("North Wind") is intended to replace the Project 941 Typhoon-class and Project 667 BDRM Delta IV-class vessels. This constitutes the first time that Russia has added new SSBNs to its navy since the end of the Cold War. "In a way, the Borei represents a literal rebirth of the Soviet submarine fleet; several boats in the class are being constructed partially from the hulls of scrapped or unfinished Akulas and Akula IIIs," a U.S. naval officer writing for the U.S. Naval Institute notes.
The new Borei-class SSBN is 580 feet (170 meters) long, has a hull diameter of 42 feet (13 meters), and a crew of 107, including 55 officers. It can dive to a maximum depth of about 1,500 feet (450 meters) and yields a submerged speed of roughly 30 knots. The sub has a compact, hydro-dynamically efficient hull for reduced broadband noise and uses pump-jet propulsion. Pump-jet propulsion reduces noise and provides the submarine with a higher tactical 'silent speed' and  increased maneuverability. This makes the submarine more difficult to detect.
According to naval-technology.com, the  total cost of the first Borei-class SSBN was $713 million, including the $280m research and development effort. In comparison, the cost of a U.S. Ohio-class SSBN was around $2 billion per vessel.
Borei-class strategic submarines carry between 12 to 16 Bulava (RSM-56) ballistic missiles with 6-10 warheads per missile – each warhead yielding 100-150 kilotons – for a total of 72 to 160 warheads per submarine.  The Bulava ballistic missile has a range of over 8300km. Analyzing the Bulava inter-continental missile Lieutenant Commander Tom Spahn, a U.S. naval reserve officer, concludes:
Like its launch platform, the Bulava missile also represents a dramatic leap forward in technology. Similar to its land-based variant, the Topol-M SS-27, to thwart evolving Western ballistic-missile-defense shields, the Bulava can conduct evasive post-launch maneuvers and deploy a variety of countermeasures and decoys to defend against interception. Its ten hypersonic, independently maneuverable warheads are protected against both physical and electromagnetic-pulse damage to ensure that they can reach their targets intact.
The ship's antisubmarine warfare capabilities are also impressive. The SSBN boasts six torpedo tubes for launching six RPK-2 Viyuga (SS-N-15) missiles. "Each SS-N-15 is capable of carrying a payload of a Type 40 torpedo or 90R nuclear depth charge. The missile can strike enemy submarines within a range of 45 km, while travelling at a subsonic speed of Mach 0.9,"according to naval-technology.com.
The Russian Navy is currently operating three Borei-class SSBNs. The first, K-535 Yuriy Dolgorukiy, was commissioned in January 2013 and currently serves in Russia's Northern Fleet.  Another Borei-class SSBN, the Vladimir Monomakh, commissioned in December 2014, is expected to enter the service of the Pacific Fleet this year. The Borei-class SSBN Alexander Nevsky, commissioned in December 2013, recently conducted a successful single test-launch of the Bulava inter-continental ballistic missile in the Kamchatka Peninsula.
All in all, the Russian Navy plans to build eight SSBN's of this class (with an option to construct two more) by 2020. The next vessel in the class, the Knyaz Vladimir, is designated as a Project 955A Borei II. It could field four more additional missile tubes (bringing the total number of missiles potentially up to 20) and is currently under construction. According to RT, it will boast smaller hulls and cons, improved acoustics and lower sound levels. A fifth Borei-class sub, the Knyaz Oleg, was laid down at the Sevmash shipyard in July 2014.
The Borei-class submarines are envisioned to remain in service at least until 2040. Tom Spahn, writing for Proceedings Magazine, calls the Borei-class SSBN an "impressive platform." He further notes that "the Borei contains the best of modern submarine technology, including advanced sound-silencing and pump jet propulsion similar to that found on the U.S. Virginia class."
War is Boring quotes an expert in anti-submarine warfare, noting that Russia is the only country in the world that can build a nuclear submarine capable of evading U.S. detection. However, the expert also notes that the "Russian navy right now [in 2013] is just a complete disaster, and on the margins they can get better, but to really get our attention they have to build 10, 20 of these things. And there are no signs they're going to do that. I don't think they have the money for it."
For a more nuanced analysis on the state of Russia's Navy, I highly recommend, Dmitry Gorenburg's analyses here and here. Perhaps we will be lucky and a Russian sub commander will soon dispatch a letter to a Russian admiral, announcing his intention to defect. Then the world shall definitely know more about Russia's deadliest nuclear submarine.