Silk Road Reporters: An Independent News Site for Central Asia?
Why a new site covering Central Asia might not be all that it seems.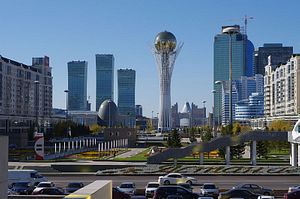 In late October, the Kazakhstan embassy in Washington, D.C., pushed an article to those who had subscribed to its listserv. The post, pitched as news from the online publication Silk Road Reporters, spent nearly two thousand words lobbying for the inclusion of Kazakhstan as one of the UN Security Council's non-permanent members. The writer, John C. K. Daly, claimed Kazakhstan deserved a seat on the Council, painting the nation as a "progressive, peaceful country … that will bring perspectives to the UNSC that have yet to be heard."
For those unfamiliar with Kazakhstan, the plea may have proven persuasive – a nascent nation, with a new perspective, from a part of the world often overlooked. And for those unfamiliar with English-language media covering Central Asia, Silk Road Reporters may have appeared as simply another media outlet for a long-neglected region.
On digging a bit deeper, however, and a number of questions emerge about Silk Road Reporters – which bills itself as an "independent news website" and is one of the few English-language outfits focusing on Central Asia. Questions about its "contributors" and their lack of track record, or indeed any kind of record. Questions about connections to consultants and PR specialists, and links to those lobbying on behalf of the Kazakhstan government. While no paperwork linking Silk Road Reporters to Astana has emerged, numerous signs surrounding the publication point to the outlet as yet another effort at Astana's image-burnishing efforts in the United States – an effort that has not only roped in Tony Blair, but has already extended to assorted American media outlets.
Silk Road Reporters, which first began publishing stories on the region last January, says it offers "compelling original reporting, analysis, interviews, and investigations from Central Asia[.]" The publication is run by James Kimer, the site's self-described "owner and editor." In an interview, Kimer said that he had visited Central Asia multiple times over the past decade, and wanted to give a voice to those in the region "who had almost no coverage in English-language media." With his own money and an "inheritance" from his grandmother, Kimer began Silk Road Reporters in early 2014, and has been publishing regularly ever since.
However, Silk Road Reporters is not Kimer's main focus. He also runs K Social Media Consulting, a Washington-based PR firm that claims to stand as a "new breed of public relations" agency. Kimer's work in communications and spin has previously extended to Central Asia – including work with the law firm that represented Mina Corp., the fuel company accused of providing kickbacks to the autocratic Bakiyev family that was toppled in Kyrgyzstan's 2010 revolution.
But Kimer's links to Central Asia don't exist solely within this specific consulting firm. He is also listed as one of two "Media Relations Counsels" with the Amsterdam Group, a separate PR firm run by Sam Amsterdam. Amsterdam, as it is, maintains his own intimate contacts with Central Asia – with Kazakhstan, in particular. Amsterdam works for BGR Gabara, one of two firms that, until 2014, represented Kazakhstani interests in Washington. In his position as the head of digital communications with BGR Gabara, Amsterdam led "traditional and social media campaigns" for Kazakhstan. (BGR President Ivo Ilic Gabara told this reporter via email that the company did not work with Kazakhstan in 2014, and denied any involvement with Silk Road Reporters.)
That is to say, the head of a putatively "independent news" outlet – with no obvious means of external funding, as neither subscriptions nor advertisements are available on the site – has worked directly for the man charged with leading Kazakhstan's media outreach in the United States. When asked about his links to Amsterdam, Kimer repeatedly denied any connection between his work with Silk Road Reporters and his work with Amsterdam, or any of Amsterdam's clients. He also denied any slant to material published with Silk Road Reporters. "Point to me which articles benefit which audience," Kimer said. "I don't believe there's any kind of pattern of beneficial coverage whatsoever from the way we do our news."
However, in reading through Silk Road Reporters's recent offerings, a distinctly pro-Kazakhstan line has come through. In addition to the article recently lobbying for Kazakhstan's placement on the UNSC, another piece highlighted the country's "new and dynamic economy," while another termed the country a "shining example of a developing economy in Central Asia." In a fit of hyperbole, one noted the "prophetic foresight" of the country's constitution, which allowed Kazakhstan to grow into a "prosperous and stable multiethnic state … anchored in its constitutional development," replete with a judiciary that "need not feel a decision would affect [its] future due to political pressure." (In addition to a struggling economy, Kazakhstan is currently 160th out of 180 with Reporters Without Borders' press freedom index, and 126th out of 177 in Transparency International's Corruption Perceptions Index.)
While Kimer continued to deny any link between Silk Road Reporters and Kazakhstani lobbying efforts and image-management, none of the site's writers were willing to speak on the record about their work with the publication – at least, among those writers this reporter was able to identify, such as Daly. When the site first went live in early 2014, it came with a stable of five "contributors" based in the region. These "contributors" – all of whom used their real names, according to Kimer – began publishing regular in-depth pieces. One Kazakhstan-based reporter, Marat Kamilov, wrote a lengthy piece on the "treacherous intrigues" dictating power in Central Asia, while another, Mirbek Aydaraliev, examined Kyrgyzstan's "shadow economy."
In attempting to contact any of these writers, however, myriad obstacles appeared. None of the five appear to maintain any online presence or prior work. Kimer refused to pass along any contact information for these writers, claiming their contact information was "absolutely confidential" and suggesting this reporter contact Irada Guseynova, the site's former features editor. When reached by email, Guseynova responded that she "had no desire to pass along correspondents' contact information to an unknown individual. If you need authors, search for yourself." When asked why the contact information was to be kept secret – the "contributors" were not using pen names, after all – she responded, "I don't think I need to explain ANYTHING to you."
Soon after this reporter requested contact information for these writers from Kimer, their names were scrubbed from Silk Road Reporters's "About Us" page, though they remain available via archive. Likewise, shortly after the interview with Kimer, Silk Road Reporters added a disclaimer that original analyses "may or may not reflect the [publication's] editorial position," and that certain writers "may require the use of pen names[.]" One of the employees requiring a pen name, according to Kimer, is "Joe Peerson." According to information scrubbed from the site after the interview with Kimer, "Peerson" is an American editor based in Astana whose sole task is "collecting aggregated news coverage" on the region. Kimer told this reporter that "Peerson" could only be contacted through Kimer, but why Peerson – an American tasked only with collating regional news – required a pen name, Kimer would not say.
To be fair, after the interview with Kimer, certain stories moved beyond brushing Kazakhstan's image, including one focusing on Kazakhstan's human rights issues. Unfortunately, the author of the story, Kseniya Bondal, is best-known for her work with a propaganda site run by U.S. Central Command.
No direct link has appeared between Silk Road Reporters and Astana. All that exists is an "independent" publication with a distinct string of pro-Kazakhstani articles, run by a professional consultant who is listed as one of two media relations counsels for the man charged with leading Kazakhstan's media engagement in the U.S. – and stocked with "contributors" who have been scrubbed from the site, whose contact information has been repeatedly withheld, and whose prior publications seem nonexistent. Kazakhstan already has a notable history of media manipulation in the West, and considering the product and slant of Silk Road Reporters, Kimer's consultancy firm may well not be his only project focusing on a new breed of public relations.