The Rise and Fall of Xu Caihou, China's Corrupt General
How Xu Caihou rose from nothing to the pinnacles of CCP power — and then lost everything.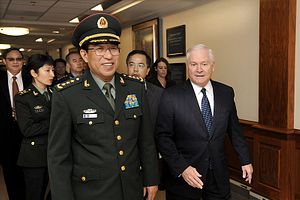 Julius Caesar isn't the only person who should "beware the ides of March." March 15 also spelled doomsday for Xu Caihou, the former Central Military Commission vice chairman and Politburo member who was disgraced as the highest ranking officer in the People's Liberation Army to be brought down for corruption since 1949. On March 15, 2014, then-General Xu Caihou was placed under investigation for corruption. Exactly one year later, on March 15, 2015, he died of bladder cancer.
A professional soldier from a humble family, Xu in fact epitomized his time. A native of Liaoning, Xu was born in his home village of Xujiazhuang in Changxing Island in June 1943. His grandparents were both farmers, and his father found a job as a clerk in a grocery store in Dalian City when he was 12 years old. An outstanding student through his elementary and secondary education, Xu entered Harbin Institute of Military Engineering — an elite university usually reserved for princelings — through competitive college entrance examinations in 1963. He was one of the only two students from his high school — No. 8 High School in Dalian — to study there. Obviously, he was a star student at the time.
A latecomer as a member of the Chinese Communist Party, Xu nevertheless rose very quickly in the military. He became a member of the CCP in April 1971, at the age of 27, but was promoted to the position of deputy political commissar of a company in the Shenyang Military Region within a few months, skipping three grades. In the early 1980s, when China was ready for military modernization, Xu was selected as a candidate for future promotions because of his educational background with the Harbin Institute of Military Engineering.
He was appointed deputy director of the Political Department of Jilin Provincial Military District in 1983 and was promoted to director of the Political Department of the 16th Group Army two years later. He was further promoted to political commissar of the 16th Group Army in another five years. In 1992, he joined the ranks of national military leaders as assistant director of the General Political Department as well as director of the PLA Daily, the mouthpiece of the Chinese military forces.
A rising military and political star, Xu was further promoted to deputy director of the General Political Department in 1993 and to political commissar of the Jinan Military Region in 1996. In 1999, Xu was inducted into the Central Military Commission as the executive deputy director of the General Political Department (a rare honor) and was conferred the rank of full general, along with Guo Boxiong.
Between September 1999 and November 2012, Xu was in charge of appointments and promotions of high-ranking officers in the PLA. During that time, Xu personally screened more officers for promotion to the rank of full general than any CMC chairman — the top leader of China — since 1988.
Deng Xiaoping only promoted a batch of 17 generals in 1988. As chairman of the CMC from November 1989 to September 2004, Jiang Zemin promoted a total of 79 generals. As chairman of the CMC from September 2004 to November 2012, Hu Jintao promoted a total of 45 generals. But Xu Caihou screened and recommended 83 full generals — four more than promoted by Jiang, 38 more than Hu, and almost five times as many generals as those promoted by Deng!
Two years ago, Xu was still very well regarded as a role model for high-ranking officers of the PLA. One month before his formal retirement from the Central Military Commission of the People's Republic of China, Xu was diagnosed with bladder cancer in February 2013. As a man from a humble background who rose to the pinnacle of the Chinese power structure, Xu's life could have made a great story: a high-ranking officer who dedicated his life to the great cause of military modernization in China. He could have been a good example and an inspiration for future officers. Probably based on this consideration, the People's Liberation Army began in September 2013 to collect materials on Xu Caihou's life to prepare for an official biography of the former vice chairman of the CMC.
Had Xu died on March 15, 2013, he would have been remembered as "an outstanding member of the CCP, a long-tested loyal communist soldier, and an outstanding leader of the PLA." Unfortunately, he outlived his purpose and saw his reputation destroyed. But there's one small comfort in Xu passing away on March 15, 2015 — in legal terms, he died an innocent man, without going through a formal trial.