Chinese Ex-General Gets Life in Prison for Corruption
Guo Boxiong's conviction is the latest reminder that Xi Jinping's anti-corruption campaign is going strong.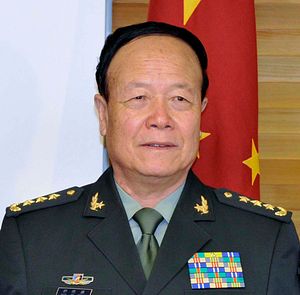 On Monday, a Chinese military court sentenced Guo Boxiong, a former general who held one of China's top military positions, to life in prison for corruption. He was also stripped of his rank and "deprived of his political rights for life." The trial was closed to the public "as military secrets were involved," according to Xinhua, and was not announced prior to the news of the conviction.

Guo was officially stripped of his membership in the Communist Party of China (CPC) and handed over to a court martial on July 30, 2015. That marked a stunning fall for Guo, who held the position of top vice chairman in China's powerful Central Military Commission from 2002 to 2012. Guo had been rumored to be under investigation for months prior to the July announcement, especially after his son, Guo Zhenggang, was included on a list of 14 generals convicted or being investigated for corruption in March 2015.
According to Xinhua, Guo was found guilty of accepting "huge amounts in bribes" and using his position to "assist the promotion and reassignment of others." Xinhua, citing a statement from the military court, said Guo took "extremely huge" bribes and committed "extremely serious" crimes. Guo was spared the death penalty, though, perhaps because Guo "confessed, owned up to his misdeeds, [and] repented in good faith." Xinhua also noted that "all the proceeds of his crimes have been recovered," as Guo's "personal assets were seized" after the trial.
Guo has confessed his guilt, and will not appeal the verdict, according to Xinhua.
Guo's fellow vice chairman on the CMC, Xu Caihou, faced a similar fate, although he passed away before he could be formally tried on corruption charges. Both men were reportedly close allies of former President Jiang Zemin, who maintained outsized influence over the Chinese military even after official stepping down as CMC chair in 2004.
Guo is the highest-ranking military official yet to be caught in President Xi Jinping's much-touted anti-corruption campaign. A recent reorganization of China's military bureaucracy gave new prominence to the watchdog element of the PLA, elevating the disciplinary inspection organ to an independent branch directly under the CMC (rather than a sub-organization under the old General Political Department). The new CMC Discipline Inspection Commission sent out discipline inspectors to take up posts at the newly reorganized departments and theater commands in May – the first time inspectors have been given such a responsibility.
On the civilian side, meanwhile, corruption investigations have toppled high-ranking figures like Ling Jihua, a close aide to former President Hu Jintao, and Zhou Yongkang, the only former member of China's all-powerful Politburo Standing Committee to ever face corruption charges.
Continued anti-corruption efforts will reportedly be a focus of this year's Central Committee plenum, scheduled for October. The sixth plenum since the 18th CPC Central Committee was formed in 2012, this year's session will focus on "key issues concerning the comprehensive and strict management of the Party," including revising regulations concerning intra-Party supervision, according to Xinhua.  The plenum's focus was announced on Tuesday, a day after Guo's conviction.
"[T]here is the need for writing a set of norms for political life in the Party under the new circumstances," Xinhua said, citing a statement from the Politburo. Of special note, the new regulations will focus in particular on "senior officials including members of the CPC Central Committee, Political Bureau of the CPC Central Committee, and the Standing Committee of the Political Bureau of the CPC Central Committee."