The U.S. Needs a Refocused Rebalance
A true focus on Asia is critical not only to compete with China, but to stay relevant in the 21st century.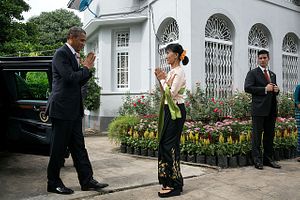 A broad, long-term initiative in nature, the administration of U.S. President Barack Obama rebalance – the foreign policy effort to refocus on the Asia Pacific – has three key near-term goals: pass the controversial Trans-Pacific Partnership (TPP) treaty; advise nascent democracies (like Myanmar) on improving transparency and treating citizens equitably; and increase bilateral security training and intelligence collaboration. But in some respects, these goals have proven elusive. Obama had hoped to conclude the TPP by December 2012, yet still no deadline has been set. Meanwhile, the troubled democracies that were initially making headlines for their progress have lately fallen back on old habits.
Five years after Obama announced that he wanted to rebalance U.S. foreign policy towards the Asia Pacific – he's batting about one for three. Each initiative is nuanced, and success with each requires remarkable focus, so the administration's track record isn't terrible. And there are many fires back home that need attention before Obama can match his words on Asia with deeds. Unfortunately, while the U.S. is talking the talk, China is walking the walk. Beijing is particularly keen on filling the U.S. void in the region in two specific ways: economic clout and hawkish demonstrations in the South China Sea.
"Asia Pacific Dream," "The Chinese Dream," "March Westward," "Silk Road Economic Belt," whatever the nomenclature, the People's Republic of China's audacious foreign policy initiatives are in full force and put to use one of China's greatest resources – money. To exert influence in Asia, Chinese President Xi Jinping had an answer for TPP: a new Asian Infrastructure Investment Bank (AIIB), bankrolled with $40 billion to make China an even more influential regional leader. And unlike TPP, which excludes China, the AIIB welcomed U.S. involvement, an unexpected move after Xi's "Asia for Asians" comments in Shanghai. The AIIB serves as not only a counterweight to TPP, but also as a vehicle for China to spread monetary influence throughout Asia.
Beijing has matched its impressive monetary clout with a similarly aggressive show of military might in the South China Sea. Disputes over the archipelagos in the region are nothing new, but Beijing's moves throughout 2014 worried neighbors like Vietnam and the Philippines. The Center for Strategic International Studies' interactive timeline of Asian maritime disputes helps explain. In July, China detained six Vietnamese fishermen near the disputed Paracel Islands. In August, a Chinese fighter jet flew within 30 feet of a U.S. Navy reconnaissance plane. In October, China completed upgrades to its military airstrip, flouting international appeals to freeze construction in the disputed islands. The U.S. has carried out joint naval exercises with the Philippines and Japan, but as its focus gradually shifts back to the Middle East, Washington's presence in the Asia Pacific is waning. And China is filling the South China Sea security vacuum.
While Chinese scholars enforce World War III narratives and the People's Liberation Army is debuting new stealth jets, the incursions in the South China Sea are going unchecked. An all-out maritime faceoff is implausible, and an increased U.S. naval presence may well prove an unsatisfactory check, but the current diplomatic narrative is that the rebalance's lapse encourages greater Chinese involvement. The Asia-Pacific is likely to be an international focal point in the decades to come, given the region's investment opportunities and vast natural resources, so it is in Washington's interest to get back in the game. It is time for a Rebalance 2.0.
How is Obama going to improve his batting average? In the case of the rebalance, it's sensible to look back to move forward. The three near-term regional goals – passing TPP, fostering democracy, and increasing security engagement – are measurable and achievable.
Passing TPP: The treaty, although late in getting approved by the negotiating states, has promise. After November's landslide victory for Republicans in Congress, Obama is already engaged in pitched battles with Congress on immigration, health, and energy. But the TPP is an opportunity to reassert his foreign policy in Asia. As Daniel Twining in Foreign Policy suggests, the president should use the quarter left in his administration to leverage the new Republican majority to pass the trade agreement.
Fostering democracy: The U.S. advising Asian democracies is showing signs of life­­­. Keeping in mind Myanmar's reversion to more repressive tactics, Obama sharpened his tone when he visited Yangon in November, attacking the law there barring a presidential bid for political activist Aung San Suu Kyi. The president made clear his support for the Nobel laureate when he said, "from the point of view of democracy, it is not right to discriminate against one particular person."
After spending a year completing a Fulbright fellowship in Malaysia, I am deeply aware of the need for reform there. Malaysians – from students and teachers to diplomats – have a deep desire for increased engagement between Kuala Lumpur and Washington. This means educational exchanges, increased trade and the opening of Malaysian markets to U.S. businesses. If the U.S. doesn't capitalize on the openness of Malaysia and other nations in the region to its advances – it will surely lose momentum to China. One possible step to reengage? Obama or Secretary of State John Kerry must condemn Malaysia's draconian Sedition Act, which gives the state sweeping powers against those deemed too critical of the government. Paired with the president's statements in Myanmar backing Aung San Suu Kyi and urging a halt to violence against Muslims there, this would create a track record of support for true democratic reform.
Increasing security engagement: The Pentagon has kept military engagement with the Asia Pacific alive through joint military exercises, but intelligence cooperation between the CIA and similar agencies in Asia should ramp up. The recent announcement of a military-intelligence sharing plan between Washington, Seoul and Tokyo is a good first step. But the trilateral arrangement should be broadened to include Sydney – especially after the recent hostage attack in Sydney.
Another productive step after the attack in Sydney would be forming a Counterterrorism Joint Working Group (similar to the existing project with India). This group will allow for more regular coordination and exchange of counterterrorism information between the U.S. Departments of State and Homeland Security and corresponding offices in Australia. Such a working group would also lend some substance to Obama's recent announcement committing to stronger security ties in the region.
The three key near-term objectives of the rebalance became blurred at the beginning of the president's second term but are slowly coming back into focus. Obama needs to continue with steady progress to truly lay a foundation for strong engagement in the region after his presidency ends. If not, future administrations will be playing catch up with China for decades to come.
Karam Singh Sethi is a foreign policy focused writer and editor based in Washington DC. He spent 2013 as a Fulbright fellow in Malaysia. Follow him @KaramSinghSethi