Vietnam's Cam Ranh Bay Caught in US-Russia Crossfire
How will Hanoi respond to U.S. pressure to curtail flights of Russian refueling aircraft out of Cam Ranh Bay?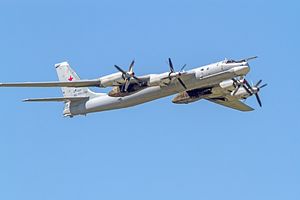 On March 11, veteran Reuters correspondent David Brunnstrom published an exclusive report that Russian Tu-95MS Bear nuclear-capable strategic bombers, conducting assertive reconnaissance patrols in the airspace near U.S. military bases in Guam, had been refueled by Russian Il-78 tanker aircraft staging out of the military airfield at Cam Ranh Bay on Vietnam's central coast.
U.S. officials noted that Russian bomber flights near Guam were part of a global pattern of renewed assertiveness approved by President Vladimir Putin against the U.S. and NATO allies in response to raising tensions over Russian annexation of Crimea, destabilizing activities in Ukraine, and Western punitive sanctions.
It was also reported that the U.S. Embassy in Hanoi had raised official concerns with Vietnam's Ministry of Foreign Affairs. According to an anonymous State Department official, "We have urged Vietnamese officials to ensure that Russia is not able to use its access to Cam Ranh Bay to conduct activities that could raise tensions in the region."
At the same time the State Department noted that the U.S. government respected Vietnam's right to reach agreements with other countries for access to Vietnam's military bases.
The State Department also revealed that it was aware of a Russian-Vietnam agreement permitting Russia to fly Il-79 refueling aircraft out of Cam Ranh Bay.
Russia's Defense Ministry confirmed that the airport at Cam Ranh was first used for staging Il-78 tankers for aerial refueling of Tu-95MS bombers in January 2014.
Russia's actions in staging refueling flights out of Cam Ranh Bay to support air operations by Bear bombers put Vietnam in the awkward position of having to reconcile its declaratory policy toward the major powers with reality.
On the hand, Vietnam's most recent Defense White Paper, published in 2009, declares that "Vietnam advocates neither joining any military alliances nor giving any other countries permission to have military bases or use its soil to carry out military activities against other countries (emphasis added)." This policy guidance is commonly referred to as the "three nos."
On the other hand, senior Vietnamese military officials have gone on record as supporting a U.S. military presence in the region as long as it contributes to regional peace." Deputy Defense Minister Lt. Gen. Nguyen Chi Vinh, stated, for example, "Vietnam respects the U.S. stand on the region and its interest in the Asia-Pacific region, Southeast Asia specifically. But the respect and welcome is based on the condition that its [the U.S.] presence can maintain peace and stability as well as promote equality in international relations."
Russian tanker flights out of Cam Ranh Bay would seem to contradict the third no — using Vietnamese soil to conduct "military activities against other countries." Russian actions also raise the question whether Vietnam will apply the same standards of behavior to Russia as it does toward the United States.
Clearly Russian Bear flights have raised U.S. concerns and, if continued, are likely to lead to increased tension in East Asia. For example, General Vincent Brooks, Commander of the U.S. Army Pacific Command, told Brunnstrom that Russia was acting as "a spoiler to our interests and the interests of others" in the Asia-Pacific region and that the flights were  "provocative."
Igor Korotchenko, Director General of the Russian Center for Analysis of World Arms Trade, responded to news reports of the U.S. diplomatic démarche in these terms:
"The request by the U.S. government is a clear rudeness. An insinuation that Russian aircraft that may refuel at Cam Rahn [sic] Bay are by definition carrying nuclear warheads is a provocative and unfounded statement. Russian bombers on missions in the Asia-Pacific pose no threat."
Korotchenko counter-charged that:
"Regional instability may be provoked… by America and its allies that are unfolding the Asian segment of missile defense system which only stirs up the external tension and activates the arms race."
Korotchenko offered his assessment that Vietnam would not respond to the U.S. request. As of this writing, Vietnam has remained silent on this issue.
Vietnam's dependence on Russia as the main source of military platforms, equipment, and armaments, has now put Hanoi in a difficult spot. Russia has pressed for special access to Cam Ranh Bay ever since it began delivering enhanced Kilo-class submarines to Vietnam. Initially Russia wanted a stop over for its navy after completion of anti-piracy duties in the Gulf of Aden.
Given the precedent set in January last year to permit Russian tankers to stage out Cam Ranh, Russia certainly would be displeased if Vietnam reversed policy and set conditions or denied future access. Russia might react to Vietnamese attempts to curtail its refueling activities by slowing the pace and scope of defense cooperation with Vietnam. Russian hands are tied to a certain extent, however, because it does not have air access agreements of this nature elsewhere in Southeast Asia.
China is likely to be quietly supportive of Russian activities because they share the common objective of challenging the U.S. global leadership role.  China would be even more pleased if the Russian tanker issue raised complications in Vietnam's relations with the United States.
The U.S. demarche comes at an awkward time for Hanoi as it prepares for the first visit by party Secretary General Nguyen Phu Trong to Washington. The current contretemps could sour Trong's visit, set back U.S. approval for the sale of lethal weapons "on a case by case basis," and slow the growing momentum in defense cooperation.
Hanoi is invariably cautious and risk adverse in its relations with the major powers. The current issue of Russian tankers staging out of Cam Ranh pits Russia and China on one side and the United States on the other. There is no easy solution for Vietnam.