What Does the NPC Have to Say About China's Pollution Woes?
Announcement made during the "two sessions" hint at increased enforcement of environmental laws.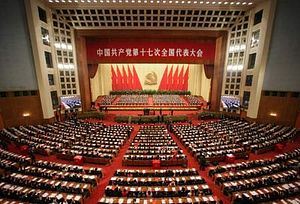 With a documentary on China's smog problem going viral just days before the busiest political season of the year, pollution was bound to be a point of emphasis at China's National People's Congress. While the main focus has been on China's economic reforms and the anti-corruption campaign, we are seeing some tough new language regarding the "war on pollution."
As Chai Jing's documentary pointed out, one of the major issues for China is that its Ministry of Environmental Protection (MEP) has little power to enforce existing laws (much less push through tough new environmental standards). Accordingly, this week China has unveiled new initiatives meant to shore up the "rule of law" when it comes to environmental issues. China's new environmental protection minister, Chen Jining, vowed to enhance MEP supervision over local governments. Chen (a rising political star, according to Bo Zhiyue) told the press that the MEP "will spare no effort" to implement the new Environmental Protection Law. He also advocated for increased public participation in the "war on pollution," an attitude backed by his enthusiastic support for Chai's documentary.
Outside of the MEP, other organizations are also paying more attention to environmental issues. China's Ministry of Science and Technology announced a new five-year plan to prevent and control air pollution. In addition, the Supreme People's Procuratorate is planning a nearly two-year crackdown on "environmental crime," slated to run from March 2015 to December 2016. President Xi Jinping himself pledged "to punish with an iron hand any violators who destroy [the] ecology or environment, with no exceptions."
Premier Li Keqiang expressed similar concern for the environment in his government work report. He called pollution a "blight on people's quality of life and a trouble that weighs on their hearts," adding, "we must fight it will all our might." Li too promised to step up enforcement of environmental laws to hold polluters to account.
Announcements made this week also codified a number of environmental targets for 2015, including cutting both China's carbon intensity (carbon dioxide emissions per unit of GDP) and energy intensity (energy used per unit of GDP) by 3.1 percent and keeping energy consumption growth at around 3.4 percent annually. Beijing also recommitted to its pledge to cut its reliance on coal and increase the percentage of renewable energy in its energy matrix to 15 percent by 2020. In addition, according to National Energy Administration chief Nur Bekri, increasing the efficiency and cleanliness of coal use is a major goal for China's energy policy in 2015.
These goals had all been announced earlier; as the environmentally-focused website Chinadialogue points out, the key question is whether Beijing can deliver on those promises. Concrete proposals (including a water pollution action plan and a new environmental tax) are expected to be discussed in more detail as the NPC continues.
Still, the real test of China's commitment to environmental protection likely won't come from the NPC at all, but from China's next five-year plan. That plan, which be will discussed at Party meetings throughout the year, will set a number of targets for China's development from 2016-2020 – including key environmental goals. A draft should be ready by October 2015 and the final plan will be officially adopted at next year's NPC session.