Will Japanese Subs Be Built in Australia?
Remarks by a retired Japanese Vice Admiral could be a "game changer" in the race for Australia's biggest-ever arms deal.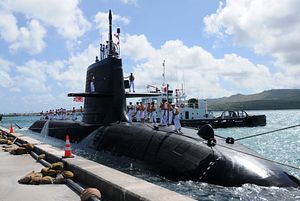 Japan is perhaps softening its stance vis-à-vis the possible construction of Soryu-class submarines in Australia, according to Reuters. Last week, retired Japanese Vice Admiral Yoji Koda stated at Australia's Future Submarine Summit that perhaps only the first out of a dozen such vessels could be built in Japan.
"At least some boats should be built in this country [Australia] (…) I used to be heavily involved in defense force planning … Maybe the best way is proportional to the number of ships to be built," the Vice Admiral said.
Another retired Japanese naval officer, Vice Admiral Masao Kobayashi, who also attended the meeting, stated that it was "not very difficult" to imagine Japanese submarines constructed in Australia, according to Reuters.
The conference was held in Adelaide, home to the state-owned Australian Submarine Corporation. One of the event co-organizers, John Bruni, director of Sage International, an Australian geopolitical consultancy, called Koda's comments a "game changer."
However, no Japanese official so far has confirmed that Tokyo has shifted its position on the transfer abroad of sensitive military technology. Also, the two Japanese companies building the 4000-ton Soryu-class vessels, Mitsubishi Heavy Industries and Kawasaki Heavy Industries, were notably absent from the event.
The A$50 billion ($38.8 billion) project, meant to replace Australia's six Collins-class submarines, has been steeped in controversy (see: "Australia's Botched Sub Bidding Process Upsets Sweden") and Canberra only recently invited France, Germany (see: "Is Germany Still in Race for Australia's Biggest Arms Deal of the Century?") and Japan to participate in a 10-month long "competitive evaluation process."
In addition, last week, Australia's federal opposition said that it also wants to invite Sweden to bid for the contract.
Prior to that, Japan was deemed the unchallenged front-runner in the weapons deal, as Prime Minister Tony Abbott had repeatedly ruled out an open tender. However, Japan has started to be challenged from numerous sides including the Australian submariner community as I have noted before. One commentator summarized their concerns:
The Australian submariner community is highly skeptical, as Japanese subs do not meet Australia's unique requirements, and their much-touted air-independent propulsion is actually Swedish technology that would have to be bought directly from Sweden. The supposedly silent propulsion system, according to these submariners, also includes a modified French engine that is already out of date. While the upside of a Japanese agreement might include sharing valuable technical data, the Soryu subs are not the easy solution the minister is looking for.
One thing appears to be certain: the Australian government wants the submarines to be constructed in partnership with Australian industry, which is supposed to create around 500 new jobs in the country – mostly in southern Australia. Head of Australia's opposition, Bill Shorten of the Labor Party, wants this to be a non-negotiable condition in discussions with any new partner.
In an interview with IHS Jane's Defence Weekly, Koda, noted that "the ball is in Australia's court." "Prime Minister Abe and [Australian Prime Minister] Tony Abbott share the same view of the importance of strengthening Japanese-Australian co-operation and one of the near-future potentials for this is the new submarine for Australia," he added.
Japan itself is currently engaged in expanding its submarine force. In 2010, Japan's Maritime Self-Defense Forces (JMSDF) announced that they would increase their submarine fleet from 16 to 22 ships. The backbone of this new fleet will be ten Soryu-class diesel electric submarines.