A Third Road for Xinjiang
Xinjiang's Uyghurs must find a path between tokenism and rebeliion.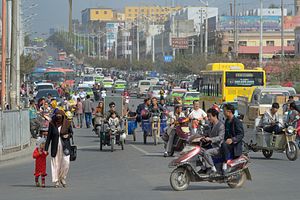 This month Jiayang Fan writes for The New Yorker about photographer Q. Sakamaki, whose exhibit, "China's Outer Lands," runs at the Half King gallery in New York City through May 24. In Fan's words, the exhibit, "which features communities in Manchuria, in Northeast China, and in Inner Mongolia, provides a rare view of lives that have largely been left out of China's narrative of progress."
Forgetting that "Manchuria" is a dated (and somewhat controversial) term for Northeast China, Fan offers a tidy look at Xinjiang's place within that narrative. She notes that the host of this year's Spring Festival gala, "the country's single most watched television event of the year," was an ethnic Uyghur named Negmat Rahman who "played the role of token minority flawlessly." She then points out that, a few days before the gala, "a suicide bomber in southwest Xinjiang killed eight people." Several days later, "a knife and gun battle with the police in a nearby town left 17 dead."
Fan's juxtaposition marks the modern poles of Uyghur identity. One is token success within Chinese society — the other, insurrection against it. Neither will solve the conflict.
With regard to the former, Rahman is indeed the perfect token. Martin Luther King, Jr., whose "I Have A Dream" speech is studied by high schools students throughout China, described tokenism in his 1964 book Why We Can't Wait as "the glitter of metal symbolizing the true coin." The problem, he said, is that tokenism "is an end in itself. Its purpose is not to begin a process, but instead to end the process of protest and pressure." Or, as Mary Daly put it in her 1987 book Gyn/Ecology: The Metaethics of Radical Feminism, token wins are but "victories in a vacuum."
Both, it seems, are apt descriptions of Rahman's role: all glitter and no gold. Tokens are meant to symbolize equality, but even a willing token, no matter how good, cannot overcome the many indications of equality's absence. Take, for instance, the popular expression rang lingdao xian zou, or "let the leaders go first." This comes from a 1994 incident in which 1,000 schoolchildren in Karamay, Xinjiang were attending a performance when an explosion plunged the theater into flames. The students were ordered: "Sit down. Don't move. Let the leaders go first." Once Communist Party officials had walked out, the children were allowed to leave. In the end, 323 died.
Xinjiang rebels have rejected tokenism for an eye-for-an-eye mentality. Abdullah Mansour, leader of the Islamist separatist group Turkestan Islamic Party (TIP), claimed responsibility for the 2013 Tiananmen Square attack, during which an S.U.V. plowed through a crowd of bystanders and exploded, killing five (including three people within the car) and injuring 38. He also voiced his approval of the 2014 Kunming attack, in which 33 were killed and 143 injured by knife-wielding terrorists.
But insurrectionism is even less viable a path than tokenism. With each new terrorist attack, the public looks more coldly upon Xinjiang. Furthermore, these attacks may prop up the esprit de corps, but as rebel morale grows stronger, so does Beijing's resolve. According to an article this week in Asia Times by Peter Lee, author of the blog China Matters, "the PRC has based its Xinjiang policy on the most conspicuous if unsavory successes in containing Muslim self-determination movements — Chechnya and Kashmir — which emphasized a maximalist and militarized gloves-off approach."
This approach just turned a corner too. Dr. Sajjan M. Gohel, International Security Director for the Asia-Pacific Foundation (APF), believes the key to defeating Uyghur terrorists lies in targeting them within Pakistan — where, as of March 2014, Mansour was hiding out — and the $46 billion China-Pakistan Economic Corridor (CPEC), signed this month, gives Beijing the reach, and Pakistan the financial incentive, to do so.
Uyghurs are the monadnocks of China; isolated, prominent and resistant to erosion. To survive, they must begin to forge a new road ahead: a third way that, like Dr. King's path, shuns tokenism and violence alike while raising a voice for equality and peace. Otherwise, I fear, they may find themselves fast approaching a dead end.