As AIIB Deadline Closes, These Two Applicants Might Be Out of Luck
The final flurry of states seeking to join AIIB as founding members included a few surprises.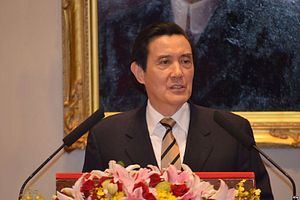 Today marks the deadline for countries to apply for founding member status in the Chinese-led Asian Infrastructure Investment Bank (AIIB). Over the past month, the number of applications surged, as U.S. allies and partners in Europe and Asia broke ranks with Washington to join the AIIB. The U.K., France, Germany, Italy, Australia, and South Korea all signed up since mid-March.
As of March 31, Chinese media reported that 42 countries have applied for founding member status but only 30 of those application have been officially accepted. China's Foreign Ministry said a full list of countries approved as founding members would be released by April 15. "Opinions are being solicited through multilateral procedures on other countries that have filed applications over recent days. We will have the exact number of prospective founding members by April 15," spokesperson Hua Chunying said.
Perhaps the most surprising late application to the AIIB is Taiwan. The Taiwanese government had previously expressed interest in joining, with Finance Minister Chang Sheng-ford telling legislators that Taiwan was willing to join "upon invitation." Its official application wasn't sent in until the evening of March 30, South China Morning Post reported. Presidential spokesman Charles Chen I-hsin said in a statement that joining AIIB would "increase the odds of the island taking part in international affairs and international economic and trade organizations."
Despite Taiwan's interest, it's not clear if Beijing will welcome its inclusion in AIIB. When asked about Taiwan's application for membership, Foreign Ministry spokesperson Hua Chunying said, "Concerning Taiwan's application, problems like 'two Chinas' or 'one China, one Taiwan' should be prevented from emerging." Current requirements limit AIIB members to states, which would preclude Taiwan from joining under the "one China" policy. However, China could alter the requirement to define members as "economies," using the same language that allows Taiwan to take part in APEC.
In a positive sign for Taiwan's potential membership, Hong Kong might also join AIIB. Hong Kong, like Taiwan, has separate membership in APEC; if language defining AIIB membership is altered to allow Hong Kong to join, it would pave the way for Taiwan's inclusion as well. Hong Kong Secretary for Financial Services and the Treasury Chan Ka-keung said the Hong Kong government "will seek funding from Legco [the Legislative Council] and will present the documents to garner… support for joining" AIIB. Chan added that if AIIB includes Hong Kong and its "finance and professional services," the "benefits will be enormous."
Taipei seems willing to apply to AIIB according to China's "one China policy" restrictions. For example, Taiwan submitted its application via the mainland State Council's Taiwan Affairs Office rather than directly to the AIIB secretariat. As J. Michael Cole covered over on our Flashpoints blog, the Ma Ying-jeou administration's decision to join AIIB under the "one China" framework has sparked protests on Taiwan, with detractors accusing the government of opaque decision-making on cross-strait affairs.
Though the fate of Taiwan's bid to join AIIB remains up in the air, it seems to have a better chance than a long-time Chinese ally: North Korea. NK News reports that North Korea sought to join AIIB, but was rejected when it refused to provide detailed economic information. Masahiro Kawai, formerly the head of the Asian Development Bank, said he had been told by AIIB President Jin Liqun that North Korea was interested in joining. "When I met Jin in December, he told me that North Korea had come to him, and that he had given them a clear indication that the AIIB would need to disclose sufficient information … but the North Koreans were not willing to provide that information," Kawai said.
China requested various details on North Korea's economy, including tax information and economic activity. Beijing also wanted Pyongyang to give details on how potential AIIB loans would be used. North Korea was either unwilling or unable to comply. North Korea "stopped publishing economic statistics in 1967, so it isn't something they're used to," Andray Abrahamian of Choson Exchange told NK News. He added, "But as their businesses and economic policymakers begin interacting with more foreign partners [providing economic information] is something that they will simply have to address."
Other experts interviewed by NK News said the response to North Korea stemmed from China's desire to address international concerns regarding transparency and governance in AIIB. With other countries watching closely to see that China will adhere to international standards in setting up the AIIB, Beijing is not inclined to give North Korea a free pass.
When asked about North Korea's bid to join AIIB, Foreign Ministry spokesperson Hua denied knowledge of such an interaction. She then repeated China's stance that "the AIIB is an open and inclusive multilateral development institution, and all parties are welcome to join."