China Offers $2 Billion to Oil-Rich Equatorial Guinea
China will offer $2 billion to help Equatorial Guinea move beyond a reliance on oil.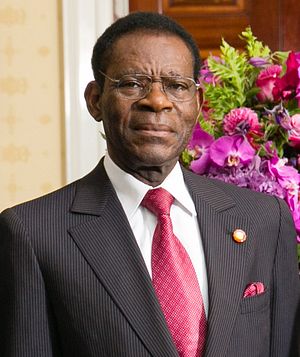 As of Tuesday, Equatorial Guinea is the recipient of $2 billion in infrastructure funding from the Industrial and Commercial Bank of China (ICBS).
Equatorial Guinea is a small state in west Africa, about the size of the U.S. state of Massachusetts. It's also one of the largest oil producers in sub-Saharan Africa. This combination of oil wealth and small size (an estimated population of just 722,000)  has resulted in the highest GDP per capita in all of Africa ($20,581 in 2013, according to the World Bank), although income inequality is a major concern.
According to Reuters, the new deal will see ICBC provide some funding directly to Equatorial Guinea's government. Other funds will be allocated to Chinese firms operating in the country, to support their investments. Africa as a whole is the "strategic and development heart of 'going out,'" ICBC said in a statement. The Chinese government's "going out" policy, rolled out in 2001, encourages Chinese companies to invest abroad as part of a strategy to increase global recognition of Chinese firms.
The deal with ICBC was signed during a visit by Equatorial Guinea's president, Teodoro Obiang Nguema Mbasogo, to Beijing. In a meeting between Obiang and Chinese President Xi Jinping, the two sides agreed to elevate their bilateral relationship to "an all-round partnership featuring equality, mutual trust, and win-win cooperation," according to Xinhua. Xi said the two sides should continuing supporting each other's "core interests and issues of major concern." He also promised that China would encourage its companies to invest in Equatorial Guinea.
For his part, Obiang expressed appreciation for China's long-time assistance to Equatorial Guinea. In particular, he thanked China for providing aid "with no political strings attached."
By contrast, Equatorial Guinea (where Obiang has been president since 1979) often comes under fire from Western NGOs and governments for human rights violations. For example, Equatorial Guinea has scored no better than a six in Freedom House's annual world freedom report since 1995 – and often scored a seven, the "least free" ranking on the 1-7 scale. The U.S. State Department, meanwhile, lists "good governance and democracy; the protection of human rights; and U.S. national security" as its three major concerns for the U.S. relationship with Equatorial Guinea.
Human rights and governance concerns don't factor in to China's relationship with Equatorial Guinea — much to Obiang's relief. Currently, China is the largest destination for Equatorial Guinea's oil exports, according to the U.S. Energy Information Administration, in part because countries like the United States have sharply cut their imports in recent years.
However, like many countries reliant on oil exports — oil made up an astonishing 95 percent of Equatorial Guinea's GDP as of 2011 — Equatorial Guinea has been hit hard by declining oil prices since late 2014. The country has also seen production slow over the past years, with oil production dropping to 270,000 barrels per day in 2014, down from 369,000 barrels per day in 2007.
That has inspired the Equatoguinean government to seek to diversify its economy. As early as 2010, Obiang declared that the country needed to develop beyond energy exports. "The oil will not last forever," he said.  The government's "Horizon 2020" initiative seeks to build up infrastructure, particularly in the fields of healthcare, water systems, and transportation networks. Countries from Serbia to Israel have seen their firms investing in Equatorial Guinea as part of the plan, but China's offer of $2 billion in funding for infrastructure projects will dwarf previous efforts.