China to Cambodia: Don't Mention the War
China marks an important occasion in Cambodia, without mentioning the occasion.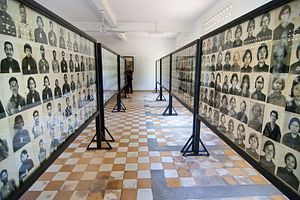 China's sledgehammer approach to diplomacy has won Beijing few friends in Southeast Asia. Its attitudes to maritime disputes in the South China Sea, massive land acquisitions by state-owned companies and its cash-for-influence strategy among regional governments have all been the subject of unflattering headlines.
But expectations were raised when China's top political advisor Yu Zhengsheng met with King Norodom Sihamoni of Cambodia and his mother, the former Queen Norodom Monineath Sihanouk, in Beijing on April 17thwith observers expecting more than the usual bland diplomatic tidings.
That day was the 40th anniversary of the Chinese-backed, Khmer Rouge takeover of Cambodia.
In Phnom Penh commemorations were underway, including a dawn service at the Killing Fields, book launches, and seminars amid a school holiday and religious ceremonies for what ranks among the most intensely observed cultural days on the Khmer calendar.
"China will continue to pursue a friendly policy towards Cambodia, and work closely with the country to implement the consensus reached between both leaders and build a community of shared destinies," Yu said. That was about all he said.
Yu, chairman of the National Committee of the Chinese People's Political Consultative Conference, also conveyed Chinese President Xi Jinping's greetings, according to the Xinhua news agency.
"Hailing the friendship between both countries, Yu said King Sihamoni has claimed the legacy of his father, late Cambodian King Norodom Sihanouk, to develop bilateral friendship and make new contribution to enhancing ties with China," Xinhua reported in a dispatch dated April 17.
Sihamoni spent much the 1975-79 Khmer Rouge reign, essentially as a prisoner, in the royal palace after his father Norodom Sihanouk had a falling out with Pol Pot, whom he had initially supported after he was voted out of political office by his own National Assembly in 1970.
Outside the palace about two million people were being killed. The only flights in or out of the country were through China, which had dispatched hundreds of political advisors to Phnom Penh and swapped military equipment for Cambodian rice, leading the country into famine.
Even to this day the extent of the carnage is still being unveiled on the outskirts of the capital, where surviving leaders of the ultra-Maoists have been convicted of crimes against humanity in a United Nations-backed war crimes tribunal and are currently facing genocide charges.
Sihamoni's reaction was proportionate, saying he appreciated the support China gives Cambodia, adding the Cambodian royal family "will continue boosting friendship with China and upgrade bilateral ties."
China has emerged as the biggest donor and investor in Cambodia as it struggled to emerge from decades of war. Meanwhile, Cambodia has risked alienation among its neighbors by backing Beijing's territorial claims in the South China Sea.
China's role during the Khmer Rouge period remains one of the big question marks hanging over the era.
Given the Chinese moral high ground approach to Japanese atrocities in World War II, an approach that only began in earnest in the late 1990s after Tokyo ended its postwar soft loan policy to Beijing, some soul searching by China and its expansionist policies would not be inappropriate.
Importantly, it is widely understood that Sihamoni, his father, and the few members of the royal family who were not slaughtered by the Khmer Rouge owe their survival to the Chinese who had intervened and pressured Pol Pot into sparing their lives.
That in itself is of enormous historical significance.
While China is not directly responsible for any crimes committed by the Khmer Rouge, its role in Pol Pot's rise to power, the absolute slaughter that followed, and continued recognition of the Khmer Rouge as the legitimate rulers of Cambodia until 1992 deserves more than a cursory handshake among leaders.
But to meet and greet the Cambodian monarch on such an auspicious day without public reference to the past and the crimes committed by the Khmer Rouge simply smacked of diplomatic ignorance.
Luke Hunt can be followed on Twitter @lukeanthonyhunt