In France, Germany, and Canada, Modi Impresses
Narendra Modi's time in France, Germany, and Canada showcased his shrewdness as a diplomat.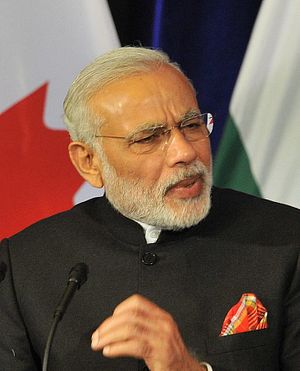 Indian Prime Minister Narendra Modi returned last week from a nine-day tour of three key western nations. In France, Germany, and Canada, he used his "Make in India" initiative to encourage investment from three of the world's major economies. Defense, energy, and infrastructure took center-stage in Paris as Modi went on a boat ride with the French president on the Seine and interacted with French business leaders. In Germany, the real European powerhouse, Modi met Chancellor Angela Merkel and inaugurated the Hannover Messe, considered one of the world's largest congregations of industry gurus, in which India is a partner country this year.
With Canada, Modi secured a landmark nuclear energy deal, which will supply India with 3.2 million kilograms of uranium over a five-year period, formally ending a long-standing moratorium on Canadian exports of nuclear materials to India. In the 1970s, India used Canadian technology in its nuclear program. Supplying the uranium will be Canadian producer Cameco Corporation, who says India is the second-fastest market for nuclear fuel.
While his critics complain about his style, Modi is gradually transforming Indian diplomacy. With a razor-like focus on achieving tangible outcomes, not merely high-sounding rhetoric, to help the Indian economy and on resolving long-standing disputes with key partners, Modi's foreign policy is markedly different from predecessors.
Modi's unabashed selling of India as an investment destination is the most striking aspect of his outreach to the West. India's current prime minister is more in tune with global diplomacy than his predecessors and most of the Indian foreign policy bureaucracy and commentariat in Delhi. One of the most important roles that leaders of major economies are expected to play in this day and age is that of a salesman. From Barack Obama to Xi Jinping, from David Cameron to Angela Merkel, the first order of business for most governments today is to sell their countries as welcoming places for doing business.
And Modi is a salesman par excellence. Pledging a stable and transparent tax regime, Modi has been busy wooing global investors, arguing that development is "not a mere political agenda" but an "article of faith" for his government. He has sought international support to achieve the objectives crucial for growth. He has also been underlining that his government means business. "India is a now changed country… our regulatory regime is much more transparent, responsive and stable," Modi said in Germany as he promised investors that his government is working on a "war footing" to further improve the business environment. This is something that global investors have long wanted to hear from Indian leaders. Today they see a leader who has the mandate to deliver on his commitments and they seem impressed.
In France, Modi's 'can-do' attitude and pragmatic instincts were unleashed as he tried to move forward on projects that have been stuck for a long time. The Rafale deal has been in limbo for the past three years over terms of procedures and pricing negotiations even as the Indian Air Force worried about meeting its "critical operational necessity." Modi managed to break the deadlock with his out-of-the-box approach when he signed a government-to-government deal with France for the supply of 36 Rafale fighter jets in "fly-away" condition "as quickly as possible." Though this goes against his 'Make in India' pitch, he understood the urgency of IAF demands. In some ways, this was compensated by the support Modi's 'Make in India' campaign received from Airbus, which declared that the company was "ready to manufacture in India, for India and the world."Airbus Group is likely to increase its sourcing of aerospace parts from Indian companies to $2 billion in the next five years. India and France also inked deals aimed at early operationalization of civil nuclear cooperation agreement. The Jaitapur project has also been stuck because of differences over the cost of electricity generation. With the new pacts, there is likely to be swift movement on this front as well.
Modi's ability to effectively link India's past with the nation's future in furthering Indian aspiration was underscored when he talked about India's aspirations for a permanent seat at the United Nations Security Council. Where previous Indian governments had been diffident in highlighting the contribution of Indians to the two World Wars, Modi paid a tribute to about 10,000 Indians who died fighting alongside their French counterparts in World War I, underlining the fact that Indians have been sacrificing their lives for world peace and stability for over a century. As such, India's place on the UNSC is the nation's right. This is an argument that should have been made long back but Congress governments have been reluctant to take this up for ideological reasons.
Modi's impressive outreach to the Indian diaspora is also key to his approach to foreign affairs. He is the first prime minister to view the diaspora as critical to India's economic growth story. It is not surprising, therefore, that he reached out to the Indian community in all three countries he visited. With over 1.2 million people of Indian origin, Canada deserved special attention. "India has the strength, what is needed is opportunity," Modi said while addressing an estimated over 10,000-strong Indian diaspora at Ricoh Coliseum in Toronto, underlining the role that the Indian diaspora can play in creating these opportunities. If the Indian political leadership succeeds in cultivating the diaspora and giving them a sense of a stake in the Indian economic regeneration, it would pay dividends in more ways than one.
Modi has done well during his trip but behind the warm welcome that Modi has received also lies the hard reality of the shifting global balance of economic power. India is at the heart of this recalibration. At a time when the West is struggling economically and the larger Western world is jittery about China's growing global heft, strong ties with India are now a cornerstone of the foreign policies of most Western nations and support for strong bilateral ties with India cuts across party political divides. It is now Modi's job to sell India effectively to an audience waiting to hear a positive story. Modi's critics at home may complain about his foreign policy ventures being full of hype, but a large part of global diplomacy today involves selling a narrative about your nation that inspires confidence in your interlocutors about your future. If any political leader in India can do that effectively today, it is Modi. The Indian story is much more attractive today than it was a year ago and Modi is best positioned to narrate it to a largely receptive audience.
India and the West will not always agree but it's a sign of mature partnerships when partners can gracefully agree to disagree. New Delhi stands to benefit from leveraging partnerships rather than shunning them. Today India is well positioned to define its bilateral partnerships on its own terms and would do well to continue engaging more closely with those countries that can facilitate its rise in regional and global prominence. Modi seems to understand this much better than most of his critics – and predecessors.