India and Canada: A Match Made in Heaven?
On the last leg of his three-country tour, India's Prime Minister has a lofty agenda. Did his visit succeed?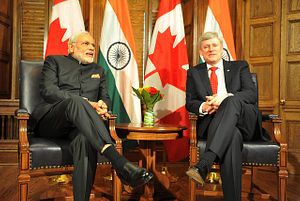 Although Narendra Modi's rock star appeal has faded back in India, and didn't seem to count for much in France, the first leg of his three-country foreign trip, scores of well wishers greeted him in Canada on Wednesday. Hours before Modi's arrival in Toronto, where he was greeted by Canadian Prime Minister Stephen Harper, huge crowds had already formed outside of Ricoh Coliseum, an 8,000-seat hockey arena where the two leaders would later speak to a sold-out audience. Earlier in the day, on Parliament Hill in Ottawa, Harper had welcomed Modi with full military honors and a 19-gun salute.
Canada is by far the smallest country on Modi's itinerary, but the theatrics were not misplaced: it may very well be the most strategically important stop of the trip. Canada has the world's third-largest proven oil reserves, with many of those deposits located in tar sands in Harper's home province of Alberta. Canada could be an ideal place for India, the fourth largest consumer and net importer of crude oil on the planet, to sate its energy appetite.
In trade terms, there's still plenty of room for Delhi and Ottawa to grow closer. In 2014, Canada shipped less than one percent of its total goods to India, valued at $3.1 billion. Part of that is due to a lapsed interest in the relationship. Modi's trip marks the first to Canada by India's head of government in 42 years.
Harper didn't hesitate to make up for lost time. By the time they landed in Toronto, Modi and Harper had struck a monumental deal, with India agreeing to purchase more than 3,000 tons of uranium from the northern province of Saskatchewan to fuel its nuclear reactors over the next five years. The arrangement, anticipated for several weeks, will be with Cameco Corporation, a uranium producer based in Saskatoon. That deal comes 45 years after Canada, under legendary Prime Minister Pierre Trudeau, banned uranium exports to India.
Though bilateral trade has been slow to develop, India remains a critical market for Canadian lentils, peas, lumber, and potash, and with the economy growing at the world's fastest clip so far this year, demand will continue to grow. That helps explain the warm welcome for Modi in Canada. Among the adoring crowds that greeted Modi in Ottawa and Toronto were some of Canada's one million citizens of Indian descent, representing one of the largest segments of the diaspora, per capita, in the world.
It's no surprise, then, that Canada sees India as a potential security partner, from the Arctic to the Indian Ocean. Both countries are part of organizations key to Asia's security architecture: Ottawa helped found the forum for Asia Pacific Economic Cooperation (APEC), which India still hasn't joined, while Canada is not a member of the East Asia Summit. Undoubtedly, as Modi and Harper wrap up their trip in Vancouver and Surrey, where they will hold meetings with 16 Conservative members of parliament, bringing that architecture into alignment will be a critical issue.
The elation of Modi's visit will soon fade, and may not provide the boon that Harper is hoping for among the Indian diaspora in Canada's elections this fall. But as India's prime minister ends his foreign trip, there seems no surer bet for a long-term partner than Canada.