India Bans Al Jazeera for Broadcasting 'Wrong' Maps of Kashmir
The Qatari news agency received a five-day ban.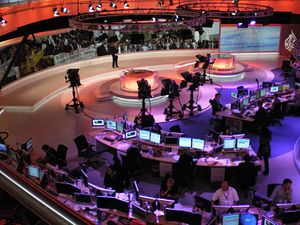 Yesterday, the Indian government banned Qatar-based Al Jazeera English from broadcasting within the country for five days after the channel showed a map of Kashmir that showed parts of the territory as belonging to Pakistan and China.
According to Agence France-Presse, any Indian viewers attempting to tune in to Al Jazeera English were instead left with a screen noting that "As instructed by the Ministry of Information and Broadcasting, this channel will not be available."
The episode highlights the Indian government's continued reliance on censorship in dealing with politically touchy subjects in the media and sensitivity to the representation of Kashmir in the media.
"The ban has been imposed for five days and it was done on instructions of an inter-ministerial committee, who took cognisance of an incorrect map of India in which the channel showed parts of Kashmir in Pakistan and China," an Indian official told the AFP.
In responding to the ban, the managing director of Al Jazeera English noted that the ban was a "disproportionate response." "Unfortunately, this is the latest in a series of ongoing issues. Our journalists have not been granted visas for years now," he added.
Al Jazeera posted a complete statement protesting the ban on its website.
The network's temporary ban comes shortly after the Indian government drew widespread criticism for banning a documentary film—India's Daughter—which portrayed India's experience in reacting to the brutal 2012 gang rape of a young woman in Delhi.
The film was particularly notable for featuring an interview with one of the convicted rapists in which he expressed little remorse for his actions.
The BBC complied with an Indian court stay order and refrained from broadcasting the film on its Indian networks—that didn't stop the film from going viral internationally over the Internet.
India claims Kashmir in its entirety, as does Pakistan. In practice, Pakistan administers the northwestern portion of the region, as demarcated by the India-Pakistan Line of Control, and China administers the eastern portion of the region known as Aksai Chin, demarcated by the India-China Line of Actual Control.