Indonesia Executions Strain Ties With Australia
Diplomatic blowback begins following the executions of Andrew Chan and Myuran Sukumaran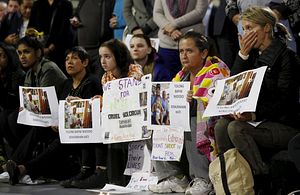 Myuran Sukumaran and Andrew Chan are dead. They and six others were executed by Indonesia in the early hours of Wednesday morning. Despite every plea and a few warnings by Australia's government and people the execution went ahead. What might now happen to relations between the two sometimes friendly but more often fractious neighbors?
Tony Abbott has said relations "simply cannot be business as usual." Australia's ambassador has already been recalled. Indonesia's Attorney General dismissed the move as momentary while the Foreign Minister Retno Marsudi praised the good relationship and indicated Indonesia's wish for it to continue. "For Indonesia, Australia is an important partner, and I think for Australia, Indonesia is an important partner," she said.
Former President Susilo Bambang Yudhoyono has cancelled a trip to Perth, saying on Twitter, "When faced with the onslaught of protests and press inquiries, I may not be at odds with the state, the government and our President." He reiterated the claim that this is a mater of Indonesian sovereignty.
Australia's response to trying to save two of its nationals has been very public, and very high level, with many pleas by both the prime minister and foreign minister for the lives of the two men, who had by all accounts reformed during their ten years' incarceration. Chan became a pastor and Sukumaran a painter.
Some commentators have suggested Australia's response has been "too polite" while others believed there was nothing to gain with a strongman attitude that would very likely have backfired. Many of Australia's earlier protestations were on humanitarian grounds, as they acknowledged Indonesia's ultimate sovereignty in its own judicial matters.
However, as domestic public sentiment grew stronger, Australian Foreign Minister Julie Bishop backed a campaign to boycott Bali, saying, "I think the Australian people will demonstrate their deep disapproval of this action, including by making decisions about where they wish to holiday."
Now, some are using the word "murdered" and not "executed" to describe Indonesia's action. Public anger is strong, although not consistent: Many Australians also deplore the two men's actions in trying to traffic heroin to Australia and point out that the consequences for drug trafficking in Indonesia have always been well known.
In March, Prime Minister Tony Abbott said that "anger is not a very good basis on which to determine a nation's policy… let's maintain our respect for human life as a nation and as a society, but let's remember that a good relationship with Indonesia is very important to this country… the relationship with Indonesia must endure and over time it must grow stronger."
Bilateral ties were already strained, following revelations in 2013 that Australia had been spying on Indonesia and tapping the cell phone of its then-First Lady.
Although things may not be business as usual for the very foreseeable future, it is unlikely that the executions will affect ties in the longer or even medium term. The execution of Van Nguyen in 2005 when caught transiting in Singapore with close to 400 grams of pure heroin also prompted outrage, doubly so as he was not a hardened criminal; he was carrying the drugs to pay off a family member's debts.
At the time Joseph Koh, then Singaporean High Commissioner to Australia wrote in The Age, "Singapore highly values good relations with Australia and with Australian leaders. We share a common belief in the sanctity of the law." He argued that the lives ruined by drugs must be thought of and even though Nguyen was transiting en route from Cambodia Singapore could not afford to become a hub for drugs transportation. Then Prime Minister John Howard said that there would be no trade or military sanctions, but: "I have told the prime minister of Singapore that I believe it will have an effect on the relationship on a people-to-people, population-to-population basis."
This seems ultimately to be the case now. It will harm links between the people of Indonesia and Australia but it may end up being "business as usual" at the top.
Helen Clark was based in Hanoi for six years as a reporter and magazine editor. She has written for two dozen publications including The Diplomat (as Bridget O'Flaherty), Time, The Economist, the Asia Times Online and the Australian Associated Press.