Malaysia Strengthens Sedition Act
A repressive colonial-era law is given new scope.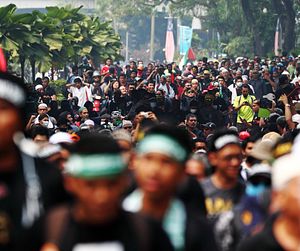 Malaysian Prime Minister Najib Razak has made two contrasting pledges with regard to the Sedition Act of 1948. First, during the election period in 2012, he vowed to repeal the archaic law. Then, two years later, he announced that the law would be strengthened to preserve domestic harmony. Last Friday, Najib's allies in parliament upheld the latter when they passed a bill that made several amendments to the Sedition Act.
Some government critics will no doubt be relieved that the amendments included the removal of provisions that make it seditious to criticize the government and the judiciary. Overall, though, the new law represents a greater threat to human rights and free speech. The maximum jail term for general sedition cases has been increased from three to seven years. A new provision allows for a penalty of up to 20 years for seditious activities that result in physical harm or destruction of property.
The government argues that the new law is necessary to prevent malicious individuals from using the Internet to cause divisions in society. In particular, the law is said to be the government's response to the demand of certain groups in Sabah and Sarawak to secede from the Malaysian Federation.
Home Minister Datuk Seri Dr Ahmad Zahid Hamidi admitted this in a statement given to media. "Last time, there was no Internet and non-verbal communication over social media. Those days, we didn't have groups of people inciting people (in Sabah and Sarawak) to get out of Malaysia."
But the government's determination to maintain unity was affirmed at the expense of establishing a environment conducive to a free media.
One of the amendments empowers the Sessions Court to issue a prohibition order on a seditious publication that would "likely lead to bodily injury or damage to property" or that "appears to be promoting feeling of ill will, hostility or hatred" between different races or classes on the grounds of religion."
The Institute of Journalists Malaysia (IJM) warned in a statement that the ambiguity of the terms "likely" and "appears" could be open to abuse and misinterpretation. It also finds the prohibition order to be "an unfairly harsh punishment," especially since it has no expiry date.
Another amendment allows the court to issue an order to remove seditious content from publications issued by electronic means, such as online publications. Those who are found to be "propagating" seditious messages will be prohibited from accessing any electronic device.
The IJM said this particular provision will have a negative impact on online journalism: "The inability to access tools of the trade will mean online journalists' careers are at risk and threatens the existence of legitimate news portals. The prohibition on 'propagating' seditious speech or their publication also means that online news portals cannot share allegedly seditious remarks on social media and RSS feeds will cease to exist, further silencing discussion on policies and issues which are of national interest."
For Janarthani Arumugam, president of EMPOWER, a media advocacy group, the term "propagation" is too broad, and could be invoked to silence online users: "One assumes that a retweet and a Facebook share would be considered as propagation. Would these broad and vague terms also make it an offence for journalists, activists, and ordinary people to quote allegedly "seditious words" when commenting on or criticizing them in any publication?"
Even the UN High Commissioner for Human Rights Zeid Ra'ad Al Hussein is concerned about these provisions: "These proposals are particularly worrying given that the Sedition Act has been applied in many instances to curb the legitimate exercise of freedom of expression in Malaysia."
He was probably referring to the scores of critics, journalists, academics, activists, and opposition politicians who had been arrested in recent months for alleged sedition.
The new Sedition Act makes it possible for citizens to freely criticize government officials but it doesn't mean it has ceased to be a tool for repression. For former law minister Datuk Zaid Ibrahim, laws like the Sedition Act "are made not to maintain harmony, but to maintain the government in power."