Russia: Korean THAAD Deployment Is a Security Threat
Russia joins China in voicing strong objections to the U.S. missile defense system.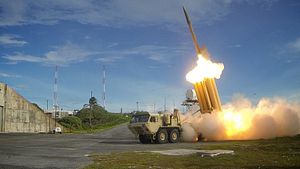 On Thursday, the Russian ambassador to South Korea called the proposed deployment of a U.S. missile defense system on the peninsula a security threat to the region, the third time in as many weeks that he has weighed in on the issue.
In an interview with Yonhap News Agency, Alexander Timonin, who served as the ambassador to North Korea until last year, said the deployment of Terminal High Altitude Area Defense (THAAD) on the Korean Peninsula would constitute a security threat to both Russia and the wider region.
"What concerns us is that a U.S. missile defense system could be placed in areas not far from Russia, adding to worries over THAAD's radar system or technology," he told Yonhap.
U.S. officials have continually insisted that THAAD would be aimed at guarding against North Korea's growing ballistic missile capabilities.
Timonin's comments were a continuation of strong lobbying against THAAD by the ambassador in recent weeks. China has also strongly objected to any deployment near its territory, leaving Seoul struggling to balance relations between the U.S. and two of its regional neighbors.
Until recently, the question of whether South Korea would join the China-led Asian Infrastructure Investment Bank (AIIB) in the face of U.S. opposition had been another ambiguity challenging its diplomatic balancing act.
But while Seoul ended speculation on the AIIB last month by announcing it would join the bank, the THAAD issue has become a controversy that refuses to go away. While the administration of President Park Geun-hye has sought to avoid addressing the issue directly, in line with a policy of "strategic ambiguity," senior members of her own party have openly expressed their support for the missile defense system. Other domestic political figures, especially on the liberal side of the aisle, have voiced opposition, citing the potential strain on regional relations.
Russia's objections to THAAD relate to its range, which extends far beyond the Korean Peninsula, according to Alexander Vorontsov, a Korea specialist at the Moscow-based Russian Academy of Sciences.
"Of course it has multi-purpose tasks. One of the tasks, of course, is North Korea," Vorontsov told The Diplomat on Thursday. "But, additionally, the capability of this system allows this equipment to intercept missiles, Russian… missiles for example. So, yes, unfortunately, there are grounds for concern vis-a-vis [the] security situation of Russia… and the Chinese."
But some Koreans have received the Russian and Chinese objections coldly.
Song Dae-sung, a professor of political science and former brigadier general with the South Korean Air Force, said that Russia and China preventing THAAD would be the same as South Korea demanding the removal of Russian and Chinese missile placements that could target the Korean Peninsula.
"If China and Russia really hate the placement of THAAD in South Korea, they can take resolute action to ensure the destruction of weapons of mass destruction held by North Korea and a halt to their development," the Konkuk University professor told The Diplomat late last month. "The insistence that we only consider the South Korea-China and South Korea-Russia relationships and not deploy THAAD, which is opposed by China and Russia, is an insistence that neglects the absolute value of national security."