What's Next for US-Vietnam Relations?
A brief look at some areas that might see further cooperation this year and beyond.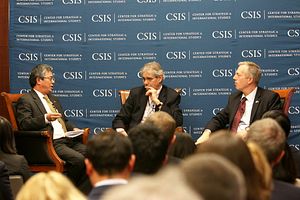 This year marks the 20th anniversary of the normalization of U.S.-Vietnam diplomatic relations. Commemorating the occasion offers an opportunity not only to consider how far both sides have come, but also to think about how the relationship might move forward in the future.
On March 27, the Center for Strategic and International Studies (CSIS), a Washington, D.C.-based think tank, hosted a rare event with the two ambassadors – Pham Quang Vinh and Ted Osius – about the opportunities and challenges that lie ahead for the relationship (Ambassador Vinh has written about his thoughts on U.S.-Vietnam relations for The Diplomat here). At that event, U.S. Ambassador to Vietnam Ted Osius outlined five key areas where Washington and Hanoi could use the momentum of the 20th anniversary to advance cooperation – both bilaterally but also increasingly regionally and globally as well. While these areas are not necessarily ones that Vietnam would disagree with, it is interesting to look at each of of them to see what might be next for U.S.-Vietnam relations.
The first area Osius mentioned is trade. The United States and Vietnam are both members of the Trans-Pacific Partnership (TPP), and getting the agreement passed would be a significant boost to the relationship and would enable Hanoi to undertake some key reforms at home. But Osius also said both sides could take some additional steps this year that might help them achieve more general goals like doubling their trade volume. Some of the measures he mentioned included promoting direct flights between the two countries and the reform of Vietnam's visa laws to make it easier to do business there.
The second is the maritime security and defense realm. The United States and Vietnam already have shared interests here, including ensuring that China and other claimants resolve their claims in the South China Sea peacefully and in line with international law. Osius emphasized that progress was already being made in all five areas of U.S.-Vietnam defense cooperation: maritime security, high-level dialogue, search and rescue, humanitarian assistance and disaster relief, and peacekeeping operations. Vinh noted that Washington has also helped strengthen the capacity of the Vietnamese coast guard and eased a lethal arms embargo against Vietnam last year. Last month, the United States also transferred five fast patrol vessels to Vietnam.
While this area was promising, Osius also emphasized that moving forward would involve "taking risks." In response to a question about the embargo, he said that it may take some time before major contracts and transfers take place, and he also admitted that a full lifting of the embargo would be contingent on progress in other areas such as human rights. Osius also said that it might take some time for Vietnam to become familiar with complex U.S. procurement procedures relative to its other traditional defense partners like Russia. As close observers are aware, some of these 'traditional relationships' can cause irritants from time to time which can affect U.S.-Vietnam relations, as the recent kerfuffle over Cam Ranh Bay illustrated (see Carlyle Thayer's take on this for The Diplomat here).
A third area was a broad one defined to include energy, environment, science, technology and health. Here, existing cooperation is already underway on issues such as energy security, climate change, illegal wildlife trafficking and water security. But Osius urged both sides to be bolder. For instance, he noted that Vietnam's minister of agriculture had proposed some collaboration on food security and nutrition, particularly as it pertains to the Mekong Delta. Picking up on that, he said: "We can be ambitious. We can say: let's explore together Vietnam's vulnerability in food security due to climate change." This, he noted, could have broader regional and global implications as well given Vietnam's exports to other countries.
The fourth area is education. Vinh noted that the number of Vietnamese students studying in the United States has soared from just 800 around the time of normalization in 1995 to around 16,500 today, the first among Southeast Asian countries and eighth most globally. That is no small feat. But further initiatives are on the way too. For example, Osius noted that the Fulbright Program will soon transition to a full-fledged institution known as Fulbright University Vietnam, which will be Vietnam's first private, not for profit university.
The fifth and final area is human rights. Osius framed the area as one where there was progress in some areas but also some formidable challenges. He acknowledged that Vietnam had released a number of prisoners of conscience, allowed greater space for religious freedom, and modified laws to decriminalize same sex marriage. But he noted that the United States would like to see movement towards more civil and criminal code reform, an independent judiciary, and the expansion of individual freedoms. He also repeated the standard U.S. line that the relationship can only reach its full potential if there is "demonstrable progress" on human rights. While both sides were talking about these issues through their Human Rights Dialogue, as Osius and Vinh both repeated, Osius acknowledged that this area would be the toughest challenge for the relationship moving forward.
One thread that ran throughout Osius' remarks was the need for the United States and Vietnam to increasingly work together not only bilaterally, but regionally or globally as well. He noted that this was a point made by Vietnamese Vice Foreign Minister Ha Kim Ngoc when he opened a conference in January marking the 20th anniversary, with suggested fields of cooperation being non-proliferation, climate, and water, food and energy security. As I have noted elsewhere, one of the features of strategic or comprehensive partnerships is that they strive to further cooperation not only bilaterally but regionally and globally as well.
The United States and Vietnam have certainly come a long way since normalization during the Clinton administration in 1995. In one indication of the progress that has been made, during a speech at Tufts University a few years ago, I noted that President Clinton mistakenly referred to Vietnam as a US ally. Of course, Hanoi is not quite there yet, and the official designation is still one of a comprehensive partner. But as the two sides look to boost their relationship even further in the future, Osius has suggested that they adopt a motto for the next 20 years and beyond based on what the first U.S. ambassador to Vietnam and a mentor of his, Pete Peterson, said in January: "nothing is impossible."