Afghan Forces are Suffering Record Losses
Could this undermine the fighting spirit of the Afghan army and police in their battles against the Taliban?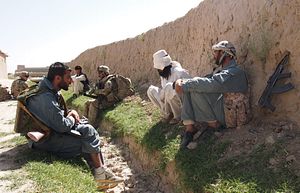 As Afghanistan's fighting season is heating up casualties within the Afghan National Security Forces have been mounting at record levels.
In the first 15 weeks of 2015, government casualties have increased by 70 percent, compared to the same period last year, USA Today reports. Casualties average around 330 a week, which means that the 195,000 members of the Afghan army and the 157,000 members of the police force have so far sustained almost 5,000 losses.
However, the high numbers of active duty security forces may be deceiving. "Neither the United States nor its Afghan allies truly know how many Afghan soldiers and police are available for duty or, by extension, the true nature of their operational capabilities," a newly released report by the office of John Sopko, the special inspector general for Afghanistan reconstruction (SIGAR) emphasized (see: "Taliban Onslaught: What is Happening in Afghanistan?").
Like in previous years, casualties are particularly high among locally recruited Afghan police forces. "The Taliban sees that as easy prey. They're not using them the way they should," the commander of U.S. Forces in Afghanistan, Gen. John F. Campbell, told USA Today.
While testifying in front of the U.S. House of Representatives Armed Services Committee on the current situation in Afghanistan back in March (see: "Quo Vadis Afghanistan: General Campbell Testifies on the Hill"), Gen. Campbell discussed ANSF losses:
A high ANDSF attrition rate, which accounts for casualties and all other losses to the force, has had an impact on combat readiness. If present rates continue, it will pose challenges to force development over time. The main causes of ANDSF attrition are assessed as poor leadership; high operational tempo; inadequate soldier/police care; and poor force management.
Speaking to reporters this Sunday, Afghan Interior Minister Nur ul-Haq Ulumi, admitted to high losses. "We are taking so many casualties. That is the reality." However he also noted: "This doesn't mean that the insurgents are more able and powerful than us." He nonchalantly dismissed concerns over the impact of casualties on the ANSF. "They were born in war, they grew up in war," he said. "They know what war is about."
One of the principal reasons for the rise in ANSF casualties is the scaled-back close air support provided by the United States and NATO forces. As I reported in March (see: "When Will the Afghan Air Force Be Ready to Fight the Taliban?") Gen. Campbell emphasized that aviation will be one of the most critical capability gaps of the Afghan National Security Forces during this year's fighting season.
However, the ANSF are without its own fixed-wing close air support in 2015. The first out of 20 Embraer EMB 314 Super Tucanos, aka A-29s, an aircraft specifically designed for counterinsurgency operations, will be delivered by the end of 2015. As I wrote here, only a handful of aircraft will arrive in 2016, with the majority being delivered in 2017 and 2018.
Helicopters are also in short supply as Lt. Col. Bakhtulla Bakhtiar, a helicopter squadron commander, told US Today: "We have lots of ground forces but we don't have enough helicopters."
Meanwhile U.S. forces are continuing to provide close air-support. Yesterday, 17 Taliban insurgents were killed in a U.S. drone strike in eastern Nangarhar province, Tolo News reported.