Afghanistan, Pakistan to Cooperate on Counter-Terrorism
Afghanistan and Pakistan will cooperate formally on counter-terrorism. Is this a seachange in their bilateral ties?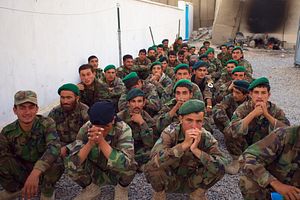 Last week, Pakistani Prime Minister Nawaz Sharif led a delegation of Pakistani officials to Kabul, Afghanistan, where they met Afghan President Ashraf Ghani and senior Afghan political and military leaders. The primary outcome of that trip, it seems, is a bilateral commitment between the two South Asian neighbors to enhance their cooperation on security matters. Both Afghanistan and Pakistan have faced a persistent domestic threat from extremist militants, many of whom use the mountainous borderlands between the two countries as a base of operations. Historically, enmity and suspicion between Kabul and Islamabad (or rather Rawalpindi, where the Pakistani military is headquartered) have prevented much cooperation on this front, resulting in a porous border across the Durand Line to the advantage of militant groups.
The highlight development of Sharif's trip was the announcement that Afghanistan and Pakistan will carry out joint counter-terrorism operations. "Any effort by any militant or group to destablize Afghanistan will be dealt with severely and such elements will be outlawed and hunted down," Sharif noted. "Coordinated operations will be planned and conducted on a mutually agreed basis to target militant hideouts along the border," Sharif added. According to a Defense News report, he further "underlined Pakistan's resolve to further deepen our defense and security partnership with Afghanistan through enhanced cooperation along the border and human resource development." According to Mustafa Kazemi, an Afghanistan-based journalist, Afghanistan's intelligence service, the National Directorate of Security, will also share intelligence with Pakistan's Inter-Services Intelligence. Additionally, Afghan intelligence officers will receive training in Pakistan, and the NDS and ISI will jointly interrogate terrorism detainees.
There have been signs of burgeoning Afghanistan-Pakistan cooperation on security matters since late last year. After December's brutal Taliban assault on a Pakistani school that claimed over 140 lives, mostly children, Afghan security forces captured and extradited a group of Taliban suspects who were apprehended across the border. Beyond this, Ghani has taken an interest in reaching across the border to his Pakistani counterpart, in the hopes of forging a constructive partnership between neighbors.
Sharif and Ghani share a common distinction: both came to power in each country's first successful transfer of power from one democratically elected civilian government to another. For Pakistan, Sharif's tenure has marked a relative low point in the traditional dominance of Pakistani foreign and security policy by the country's powerful military-intelligence elites. Meanwhile, Ghani is the second man to lead Afghanistan since the U.S. invasion in the early 2000s, succeeding Hamid Karzai, a man who was equally skeptical of the United States and Pakistan by some measures, owing to his perception that foreign powers sought to interfere in internal Afghan affairs to the detriment of the country's interests.
With a civilian government (mostly) in charge in Pakistan and a somewhat politically reticent chief of army staff, Pakistan and Afghanistan may be set for productive bilateral cooperation on security matters. Both governments recognize the threat posed by terrorism and see cooperation as one possible path to countering these militant groups. Still, while the news of joint operations may be a sign of changing times between these two countries, there remain good reasons for skepticism: Sharif's government rules on shaky ground with scant political capital, and there's little reason to think that the same interests that have kept Afghanistan and Pakistan apart for the better part of a century won't return to the fore soon.
(See a recent Diplomat podcast for more on Afghan-Pakistan ties. I spoke with the East-West Institute's James L. Creighton, a former ISAF commander, about the state of relations between the two countries.)