Australia-Japan Talk Closer Military Ties at Pacific Meeting
The two countries plan to facilitate joint military exercises.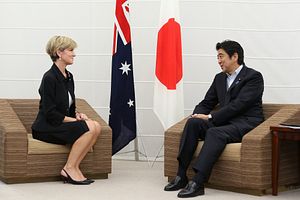 Done with her MIKTA meeting in Seoul, Australia's Foreign Minister Julie Bishop met with Japanese Prime Minister Shinzo Abe on Saturday in Iwaki in Fukushima prefecture during Japan's biennial conference for Pacific leaders. The two countries are hoping to conclude a deal on exchanging military personnel before the end of 2015.
Australia-Japan ties have strengthened in recent years, with a free trade agreement officially beginning this year. The Japan-Australia Economic Partnership (JAEPA) will apparently see 97 percent of Australian exports tariff-free when the agreement is fully operational.
Perhaps more compelling is talk of even closer military ties. Though the trilateral alliance (Trilateral Strategic Dialogues began in 2006) with the U.S. also is not entirely new and talks over Australia purchasing Japanese submarines are ongoing there are hopes now that Australia may sign a deal by year's end to allow joint military exercises between the two nations. Right now it remains hard for Australian military personnel to enter Japan, and vice-versa.
Security cooperation between the two nations began in 2007, under Prime Minister John Howard. This was some time before the U.S. rebalance to Asia, when the Asia-Pacific was of far less concern than the Middle East. If you look over the original document many of the areas of interest are more non-traditional security concerns: humanitarian and disaster relief, counter terrorism, planning for pandemics, transnational crime, and people smuggling. A strong regional organization focus is also evident: APEC, the East Asia Summit, and the ASEAN Regional Forum. Regular dialogues between foreign and defense ministers were also outlined. Joint exercises focused on humanitarian relief, law enforcement, peace operations, and regional capacity building.
Obviously, the security environment feels different now, even if few experts and analysts can really agree upon the realities of a genuine Chinese threat. Australia is supportive of changes to loosen the tight restrictions on Japan's military (a legacy from World War Two, when Australia was under threat from Japan) and Japan is also looking to change its defense strategy so as to come to the aid of the U.S. As we have previously reported, the Australian public when surveyed did not wish to go to America's aid should it wind up defending Japan against China. All this is, rather painfully obviously, being played out against the background of a more aggressive China. Disputes and incursions into the both the South China Sea and the East Sea do seem to have the Americans worried. Just see the recent B-1 "misspeak."
While allowing American bombers on to Australian soil is going to have immediate repercussions for relations with China (and the possibility was enough for a spooked China to issue some strong words), closer military ties with Japan do not present the same immediate conflict. Clearly Australia is happy about this, as Bishop told Fairfax, it was "nice to get [Abe] to confirm … that they'd like [the joint exercises agreement] to progress.
Of course, interesting as this is for Australia and allies, the main news of the meeting was Japan's announcement that it would provide $452 million over three years to "foster resilient capabilities that will not be defeated by climate change or disasters," according to Abe's address. He then followed up to ask Pacific nations to "give particular consideration to Japan's fishing activities." Such money and care given to climate change in the region will no doubt be welcomed by Pacific nations. Just a few weeks ago Fiji's President Frank Bainimarama called Australia part of the "coalition of the selfish" for its lack of commitment to tackling climate change, given that low lying Pacific nations will suffer badly if the sea level rises. Bainimarama did back down on his threat to withdraw Fiji from the Pacific Islands Forum (which Fiji was only recently permitted to rejoin) but is still deeply skeptical of what he sees as undue influence from Canberra and Wellington.
Helen Clark was based in Hanoi for six years as a reporter and magazine editor. She has written for two dozen publications including The Diplomat (as Bridget O'Flaherty), Time, The Economist, the Asia Times Online and the Australian Associated Press.