Can China Untangle the Kokang Knot in Myanmar?
The history of the Kokang conflict, and what China can do to help solve it.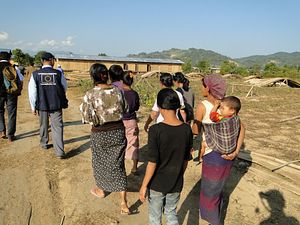 In February, armed conflict broke out again in Kokang, displacing 100,000 people from their homes. While most fled to relatively safe places in Shan State, or other neighboring states in Northern Myanmar, tens of thousands fled to China. In its hostilities with the Myanmar National Democratic Alliance Army (MNDAA), the Myanmar military has relied more on air strikes than in the past. Myanmar fighter planes have sometimes also crossed over into Chinese airspace. For example, a fighter plane dropped bombs inside the Chinese border on March 13, killing five people and wounding eight. Faced with public outrage, China responded with tough rhetoric.
With large numbers of refugees crossing the border and citizens getting injured or killed, the conflict cannot be solved through usual diplomatic means. Chinese citizens are demanding that China adopt stronger measures in response, but China has yet to resort to a military solution. Its response has included the reinforcement of border controls, negotiations with the Myanmar government, and involvement in the seventh round of ceasefire negotiations. What should China do next? To answer this question, we need to carefully review the history and current state of affairs in Kokang.
The Root of the Conflict
Kokang, a 2,000 square kilometer territory near the Chinese border, has a population of around 150,000 people, 90 percent of whom are ethnic Chinese. Although those in Kokang account for only 7 percent of the ethnic Chinese population in Myanmar, they are unique among Chinese groups in the country, as they were defined as an ethnic minority by British India. The Kokang area is known for cross-border settlements of ethnic minorities, including Kokang Chinese, Kachin, Shan, Wa and Ta'ang, among others. Expectations of a high level of autonomy on the part of these ethnic groups date back to the signing of the Panglong Agreement in February of 1947. After the July 1947 assassination of General Aung San, who signed the agreement on the behalf of the Myanmar government, it was never actually implemented, thus becoming the root cause of the armed conflicts we witness today.
Kokang was first ceded to British India by China in an agreement signed in 1897. After its independence in 1948, Kokang became an ethnic autonomous area of Myanmar. The China-Myanmar Border Agreement of January 1960 clarified sovereignty over several contested areas, but Kokang was not included in this agreement. Practically speaking, from 1897 until the present, Kokang has been governed by ethnic Chinese.
Besides conflicts between the central government and local armed groups, which is a problem throughout northern Myanmar, Kokang also has seen conflict between different factions of ethnic Chinese groups. From 1989 to 2009, the primary factions were MNDAA leader Peng Jiasheng and his family and the Yang family. The last round of this conflict resulted in the withdrawal of Peng from the Kokang area for several years. After the "August 8 incident" of 2009, Bai Suocheng replaced Peng Jiasheng as the leader of the Kokang, and the Kokang started to enjoy stability and economic development. Nonetheless, the Kokang people continue to suffer from discrimination.
The "August 8 incident" saw the vice commander of MNDAA collaborate with the Myanmar army to displaced Peng and his family. Peng, who had controlled Kokang for 20 years, was easily defeated for several reasons. After consolidating power, Peng attacked dissidents, engaged in nepotism, and encouraged drugs and gambling (earning Kokang the nickname "little Macau"). Revenue from Kokang business activities went into the pockets of the Peng family. Most people in Kokang did not benefit from his rule, and increasingly sought his removal.
Bai on the other hand, had seen some achievements. Steps to control drugs in the region moved slowly since 1991. After Bai took power from Peng, he realized full control over drugs in Kokang at the end of 2002, for the first time in over 200 years. Since 2009, he has encouraged agriculture (mainly sugarcane), water conservancy projects, and Burmese language education. By 2012, sugarcane had become the second largest industry in Kokang, next to gambling. At the present, many projects, including 125 cross border industrial parks, are under construction. These will contribute greatly to economic development in Kokang.
After leaving Kokang, Peng traveled around Thailand, Malaysia, and Singapore for several years. In 2012 he reached out to the Kachin New Democracy Army (NDAK), and later also to the Kachin Independence Army. He was allowed to establish a base and train soldiers in Kachin State, and began planning to return Kokang. By the end of 2014, he had built an army of 1,000 men under the name of the MNDAA. With general elections just around the corner at the end of 2015, Peng saw his opportunity. After several of his soldiers were killed on their way back to home base, Peng responded by launching an attack against the Myanmar army stationed in Kokang on February 9, and managed to temporarily take control of the capital of Kokang. He released "a letter to the global Chinese community" on February 13 in order to influence public opinion. As a result, many Chinese believe that this is a war between the Myanmar government and Kokang Chinese. After Chinese citizens were killed by the Myanmar army's airstrike, public anger was further aroused in China. Many Chinese now demand a strong response from the Chinese government.
In fact, the real conflict is between Peng and Bai, and Peng and the Myanmar government. Peng has been active in Kokang for decades. The secret of his success has been to change partners at the right time. He worked with the Myanmar government, the Burmese Communist Party, the Chinese Nationalist Party, the Taiwan government, and with many local armed groups. The only common thread is his pursuit of his personal interests.
Peng is certainly no friend of China's. He allows drugs and arms smuggling, which are forbidden by the Chinese government. He was wanted by the Chinese police in the 1980s and 1990s and many of his drug dealers were arrested by Chinese police. Before August 2009, he even provided weapons to separatists in Xinjiang and Tibet. Peng was willing to do anything to survive, but his acts have nothing to do with protection of the Chinese people. His actions this time are resulting in little more than the destruction of Kokang. Large-scale and long-term armed conflict will only devastate livelihoods and cause large numbers of refugees. If Kokang held elections, Peng would undoubtedly lose.
How China Should Respond
The Chinese government has responded so far by observing the situation, while preventing the larger conflict from crossing over the border into China. Still, the armed conflict has jeopardized the lives and property of Chinese citizens, with more misfired shells from Myanmar injuring Chinese citizens on May 14.
The current response from China has many disadvantages. If more citizens are killed, the Chinese government will find it hard provide an outlet for public anger. Moreover, the conflict jeopardizes the implementation of the "One Belt and One Road" strategy in Myanmar. In many ways, Myanmar will be a pivotal country for the strategy, but the ongoing conflict is impacting China-Myanmar relation. Many in Myanmar, citizens and media, believe that Peng was armed by the Chinese government to take back his territory.
The Chinese government needs to create more favorable environment for peace in Kokang. First of all, the Chinese government needs to demand that Peng drop his weapons and negotiate with the Myanmar government. The Myanmar government needs to provide a reasonable arrangement for Peng. U Thein Sein has been implementing a reconciliation policy for the past few years. He is willing to offer a way out for local armed groups. With the support of China, Peng can also find a way out of the conflict.
If Peng refuses to negotiate, China should increase military, technological and financial support to Myanmar to defeat Peng. Plus, China should strengthen control over exported arms to cut the weapons supply to Peng. Both Myanmar's national army and local armed groups have many weapons from China, proof that China needs to better control its arms exports.
Finally, China should use the advantages of the Kokang area, and make it a model for implementation of the Silk Road and the Maritime Silk Road Strategy. A prosperous Kokang can benefit both China and Myanmar. Establishing a Kokang Special Administrative Area (a step forward from the current autonomous area), where the Myanmar government is only responsible for defense and diplomacy, might be a viable solution. This will need Myanmar's government to genuinely implement the Panglong Agreement, and to go beyond the 2008 constitution, which is not recognized by local ethnic minorities.
An autonomous Kokang can provide economic benefits. It can also set an example for Wa and Kachin States. For the Chinese government, a stable Kokang is beneficial to the Bangladesh-China-India-Myanmar Economic corridor, oil and gas pipelines, and other transportation infrastructure, and allows for the protection of ethnic Chinese in the area.
Dr. Xue Li is Director of the Department of International Strategy at the Institute of World Economics and Politics, Chinese Academy of Social Sciences. Translation courtesy of Jason Tower.