Illegal Logging Throws a Wrench Into China-Myanmar Relations
Myanmar sentenced 153 Chinese loggers to life in prison, sparking protests from Beijing.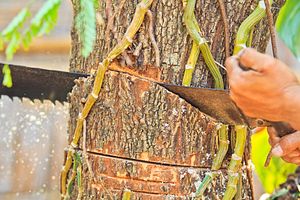 On Wednesday, a court in Myanmar sentenced 153 Chinese nationals to life in prison on charges of illegal logging in Kachin state. Two minors received 10-year sentences.
China's Foreign Ministry was not pleased by the decision. According to a statement from spokesperson Lu Kang, ever since the Chinese nationals were arrested in Myanmar earlier this year, China has "lodged multiple representations on different levels and through various channels" about the case.
China sent diplomats to Kachin state in January to investigate the arrest of over 100 Chinese nationals for illegal logging. The loggers were arrested, along with an unknown number of Myanmar nationals, by the national army in early January.
According to Lu, Chinese authorities wanted Myanmar "to consider the actual conditions of those Chinese nationals." China's embassy in Myanmar argued that the defendants had been tricked into illegal logging activities.
Lu added that Myanmar should "deal with this case in a lawful, reasonable and justified manner so as to conclude the case properly and return those people to China as soon as possible."
The life sentences make it unlikely, to say the least, that the defendants will be returned to China "as soon as possible." Lu said China was "highly concerned about the ruling" and had lodged representations. "We ask the Myanmar side to take China's concerns seriously," Lu said.
Myanmar, however, has other concerns to weigh as well. Myanmar's authorities have to balance pressure from Beijing against the domestic ramifications of being seen to bow to China's will. Since Myanmar's civil society began to open up, protestors have taken aim at several Chinese-backed projects in their country, including a copper mine at Letpadaung and the controversial Myitsone dam project on the Irrawaddy River.
At the same time, Chinese citizens are pushing their government to take a sterner stance toward Myanmar. It doesn't help that in March of this year, Myanmar's government forces accidentally dropped several bombs on the Chinese side of the border, in one case killing four Chinese citizens.
But in addition to the political posturing, there's also the reality that Myanmar has a severe problem with illegal logging. The Irrawaddy cited a March 2014 report from the Environmental Investigation Agency that estimated illegal timber exports from Myanmar between 2000 and 2013 were worth around $5.7 billion. China alone accounted for about half of the illegal exports.
In a separate report, EIA warned that rosewood species in Myanmar could actually go extinct thanks to the scale of illegal logging "driven by the expanding wealthy elites in China and their desire for the high-end Ming and Qing dynasty reproduction furniture."
Beyond environmental devastation, EIA notes serious governance-related problems with illegal logging on this scale: "It costs billions of dollars in lost revenue and has adverse consequences for communities dependent on forests for their livelihoods."
Myanmar's government has an additional worry: that ethnic rebel groups in its northern states are benefiting from this illegal timber trade. Myanmar authorities claim, for instance, that the Kachin Independence Army colludes with Chinese partners to conduct illegal logging operations. Under this scenario, illegal logging not only robs Myanmar's government of tax revenue, but directly benefits rebel armies. Given the recent upswell in violence in Kachin state, the connection between logging and the ongoing ethnic conflict gives the government a double incentive to curb illegal logging operations.
The judges seemed to have decided on the maximum penalty in order to send a strong message to other would-be illegal loggers. Khin Maung, the lawyer for the defendants, told Associated Press that one of the two judges said "he deemed effective punishment should be meted out." In this case, the desire to deter others seems to have won out over geopolitical concerns.
Meanwhile, China faces growing pressure to tighten its domestic laws to help stem the tide of illegal timber imports. As Alison Hoare of Chatham House noted in a recent piece for chinadialogue, China has become a major driver of illegal logging. China's timber-industry imports more than tripled from 2000 to 2013, Hoare notes. The rise of China, which has few restrictions on timer imports, means that "progressive policies" in the United States and the EU, designed to combat deforestation and illegal logging, are having less of an impact on the market. "Critically, [China] has no legislation in place banning import of illegal wood-based products and no national action plan," Hoare writes.