How Is Central Asia Celebrating Victory Day?
With parades, of course, and trips to Moscow.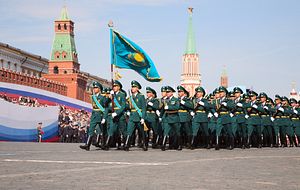 Earlier, it was reported that both Kyrgyzstan and Tajikistan would move their Victory Day parades to May 7 so their leaders could attend and also travel to Russia to take part in festivities there.
Kyrgyzstan changed its decision days later, according to TASS, and the Kyrgyz national news agency confirmed that the parade will be held on May 9 as previously scheduled. President Almazbek Atambayev won't be in attendance as he is already in Russia, taking part in the opening of a monument in Volokolamsk to Duishenkul Shopokov, a Hero of the Soviet Union from Kyrgyzstan who died defending the approach to Moscow in 1941. Atambayev will also participate in an informal meeting of the leaders of the CIS member countries.
Tajikistan also re-rescheduled its Victory Day parade. The parade, which had been moved from May 9 to May 7, will actually happen today. According to Asia-Plus, a source said that Tajik President Emomali Rahmon was to attend the parade in the morning and travel to Moscow for the CIS meeting in the afternoon.
Kazakhstan's recently re-elected President Nursultan Nazarbayev is in Moscow too, which Russian press has been touting as his first visit abroad after the election last week. His country's Victory Day parade on May 7 featured a bevy of historical military equipment and a showcase of modern technology.
Uzbekistan's President Islam Karimov is in Moscow today to attend the CIS meeting but it isn't clear whether he'll be at the parade tomorrow. The Uzbek national news agency reported that "he will participate in the meeting of heads of the CIS countries as part of the events dedicated to the 70th anniversary of the victory over fascism in World War II" — no mention of the parade. The Kremlin says he'll be there.
TASS reports that Turkmen President Gurbanguly Berdimuhamedov will attend, but little else has been published regarding Turkmenistan's celebrations. RFE/RL in reviewing how (and specifically what color ribbons) former Soviet states are celebrating with this year says that Turkmenistan, "the most isolated of the Central Asian states, reserves its idolatry for late leader Turkmenbashi, his successor, Gurbanguly Berdymukhammedov, and the color white."
Many in the West are calling Moscow's parade a diplomatic failure — as most of Europe's leaders are staying away. But while Russia may have invited the Allies, it wanted its Eurasian neighbors and its Asian allies to show up. Twenty-five heads of state are expected to attend, including Xi Jinping, the president of China, Pranab Mukherjee, the president of India, and Truong Tan Sang, the president of Vietnam. The star Asian attendee was to be North Korea's leader Kim Jong-un, but he canceled his trip.