In China, India and Pakistan Make PR Pushes
With the Indian prime minister about to visit, India and Pakistan are dueling for public opinion in China.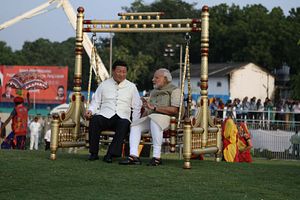 Indian Prime Minister Narendra Modi will soon embark on his first visit to China since taking office. Not long before, Chinese President Xi Jinping paid his first visit to Pakistan. Within one month, China's top leader will meet with his counterparts from India and Pakistan – two neighbors and long-time rivals.
Before his visit to China, Modi opened an account on Weibo, China's Twitter-like microblog service, in order to directly communicate with China's people. Pakistan's Prime Minister Nawaz Sharif, meanwhile, published an open letter describing his warm feelings for China. It seems India and Pakistan are in a public relations battle in China.
On May 4, ten days before Modi's trip to China, the Indian embassy in China announced that Modi had opened a Chinese-language Weibo account. His first tweet began: "Ni hao Zhongguo! (Hello China!)"
Because Modi is relatively well-known in China, his Weibo account quickly became fairly popular, attracting 30,000 followers in one day. And Modi (or, more likely, cultural attaches at the Indian Embassy) seemed quite willing to post, putting up eight posts dealing with political, economic, and cultural issues in a few days. Chinese netizens also enjoyed leaving comments (with over 12,000 on Modi's very first post alone).
While India's government was "going local" to promote Modi's visit to China, Chinese reporters received an email from Pakistan's embassy in China. The email contained a letter from Sharif, ostensibly replying to Xi Jinping. This came over two weeks after Xi finished his visit to Pakistan, so the media reaction wasn't particularly enthusiastic.
Pakistan's embassy admitted that the timing wasn't ideal, but they stressed that this was a reply to Xi, and thus important. Thanks to their urging, Sharif's letter was published in Chinese media. This was just after Modi opened his Weibo account, creating the impression that India and Pakistan's top leaders were fighting to woo Chinese public opinion.
To average Chinese people, Sharif's open letter was probably not as interesting as Modi's Weibo. Compared to Sharif's high-sounding praise for China and Pakistan's "iron brotherhood," Modi's Weibo posts are more lively and contain more interesting details. For example, Modi opened his Weibo account on the same day that China celebrated the Buddha's birth. One Weibo post (which has been shared and commented on 6,000 times) mentioned the holiday and pointed to Buddha as a uniting force for all of Asia.
Still, Sharif might not need much positive PR. Most Chinese people have a good impression of Pakistan. A diplomatic attache from Pakistan once told me that, beyond the high-level friendship and common strategic interests, the reason Pakistan is seen as a "brother" to Chinese people is because the propaganda of both countries is largely positive about the relationship. You hardly ever see negative news about the China-Pakistan relationship in the media — quite a far cry from the overly-negative news about China's relationships with India, the United States, and Japan.
Media bias is one reason India is less well-liked and less understood in China. As one China netizen wrote in a comment on Modi's Weibo: Modi should "help everyone better understand the real India. I feel that today all we hear about India is negative news, but I don't really believe it. The Indians I've meet are all funny, friendly, and full of wisdom."
Modi is trying a "grassroots" approach, using Weibo to connect with ordinary Chinese people. Pakistan, meanwhile, is using a "top-down" approach to propaganda, and for good reason. For Pakistan, the key to its friendship with China is the political, economic, and military support from the Chinese government, which obviously requires the approval of top leaders.
As for China, it doesn't want to see conflict between India and Pakistan. China's concept of "new type major power relations" should also be applied to India-Pakistan relations. Only if that relationship thaws can China's own interests be ensured.