Did India's Prime Minister Want to Ruin Chinese New Year?
Furious at Modi's visit to a disputed territory, Beijing lodges "stern representations" with New Delhi.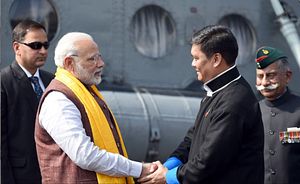 On February 15 — the day before the Lunar New Year, the biggest holiday in China — Indian Prime Minister Narendra Modi yet again visited a long-disputed territory between Beijing and New Delhi.
It was his first visit to Arunachal Pradesh since China and India diffused tensions over the Doklam standoff last year. In February 2015, soon after he assumed office, Modi had also visited Arunachal Pradesh.
During his latest visit, Modi "hailed the patriotic nature of the people of Arunachal" with chants of "Jai Hind" (which means "Victory to India" or "Long live India"). He also announced that the New Delhi-Naharlagun Express — which will connect the "people of the state with mainland India" — was named "Arunachal Express," according to Press Trust of India.
Unsurprisingly, Modi's visit immediately triggered a backlash in China.
Some furious Chinese netizens claimed that Modi intentionally chose an important day for Chinese people to visit the disputed area. Global Times, one of China's most aggressive state-run newspapers, referred to Modi's visit as a "provocation."
On February 16, China's foreign ministry issued a strong protest on its website, even though the office was supposed to be closed for the New Year holiday.
In the statement, ministry spokesperson Geng Shuang said:
China's position on the China-India boundary question is consistent and clear-cut. The Chinese government has never recognized the so-called "Arunachal Pradesh" and is firmly opposed to the Indian leader's visit to the disputed area. We will lodge stern representations with the Indian side.
Geng further reminded New Delhi that both sides had just "reached important consensus on properly managing disputes" and "are working to resolve the territorial disputes through negotiation and consultation."
In late December 2017, Chinese State Councilor Yang Jiechi had visited New Delhi to meet Modi and to hold the 20th Special Representatives' Meeting on China-India Boundary Questions with National Security Advisor Ajit Doval of India.
During Yang's visit, both sides agreed to "maintain the momentum of contact and negotiation and jointly safeguard peace and tranquility in border areas in a bid to create favorable conditions for greater and closer development of China-India relations," according to China's foreign ministry.
Thus, Geng urged New Delhi to "honor its commitment and abide by the relevant consensus, refrain from taking any action that may complicate the boundary question, cherish the hard-won momentum of improvement in bilateral relations and create enabling conditions for the boundary talks and the development of bilateral relations."
However, faced with China's strong rhetoric, India seemed unconcerned.
India's External Affairs Ministry spokesperson Raveesh Kumar responded to China's protest by saying that "Arunachal Pradesh is an integral part of India. Our leaders and people have the right to visit Arunachal Pradesh."
Since the Doklam standoff broke out between China and India, multiple Indian leaders have visited the disputed area.
As The Diplomat reported previously, in late 2017, despite China's repeated opposition, both Indian Defense Minister Nirmala Sitharaman and President Shri Ram Nath Kovind paid separate visits to Arunachal Pradesh.
China maintains that what India calls "Arunachal Pradesh" was established largely out of three areas belonging to China's Tibeten Autonomous Region — Monyul, Loyul, and Lower Tsayul — which are "currently under India's illegal occupation."
During the 1962 Sino-Indian War, Chinese troops temporarily captured part of Arunachal Pradesh, including Tawang, the birthplace of the sixth Dalai Lama. Later, China declared a ceasefire and withdrew its troops to its claimed "line of actual control." In 1987, India declared the founding of the state of Arunachal Pradesh.