Japan's Local Elections: LDP Victories Marred By Record-Low Turnout
The elections were a victory for the LDP, but a dismal showing for Japanese democracy.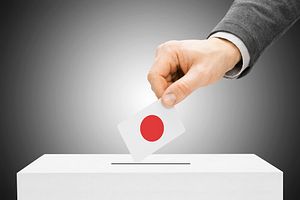 The results from the two stages of unified local elections in Japan this past month have been a resounding electoral victory for the ruling Liberal Democratic Party (LDP), but a dismal showing for Japanese democracy and voter participation.
In the first stage of local elections held on April 12, the LDP won majorities in 41 prefectural assembly elections. LDP candidates also won the governorship in Hokkaido and Oita, the only two prefectures in which ruling and opposition parties ran campaigns (out of a total ten gubernatorial elections).
In the second stage, held April 26, mayoral positions in 62 cities, 69 towns, and 11 of Tokyo's 23 wards as well as assembly member positions in 281 cities, 284 towns and villages, and 21 Tokyo wards were contested. Of the five most closely watched mayoral races, the LDP-backed candidates won two (Oita, Kyotanabe) and opposition-backed candidates won three (Seto, Setagaya, Shibuya).
A key issue for local races has been the geographic diffusion of the benefits of Abe's economic reform program, dubbed "Abenomics." Though LDP was not ousted from its rural power bases, local economic revitalization and fair distribution of the fruits of economic growth will continue to be challenges for the Abe government.
The LDP's victories will help sustain momentum to revise Japan's security policy, and prepare for next year's upper house election. It is also a boon for Prime Minister Shinzo Abe, as he is up for reelection as the party's president this September. But just as there is no alternative party to the LDP in sight, there appears to be no doubt about his continued leadership.
Sadly, April 2015 created all sorts of new record lows for Japanese political participation in local elections. The average voter turnout in the 62 mayoral elections stood at a record low of 50.53 percent, down from the last round of mayoral elections held in 2011, which saw an average 52.97 percent turnout rate. Average turnout for city assembly elections also fell to 48.62 percent, and dropped to 69.07 percent for mayoral elections of towns and villages.
Furthermore, about 30 percent of city mayors and more than 40 percent of town and village mayors were elected unopposed. Default winners accounted for 21.8 percent of the total number of elections for town and village assembly seats, and 3.6 percent of the total number of city assembly elections.
While these local elections have answered many short-term questions about the future of Japanese politics, most notably the sustained leadership of the LDP both nationally and locally, it has raised more questions about the long-term direction of Japanese democracy.