South Korean Gay Pride Event Sparks Bitter Standoff With Christians
Christian groups are blocking LGBT organizers from receiving the necessary permits for a gay pride festival.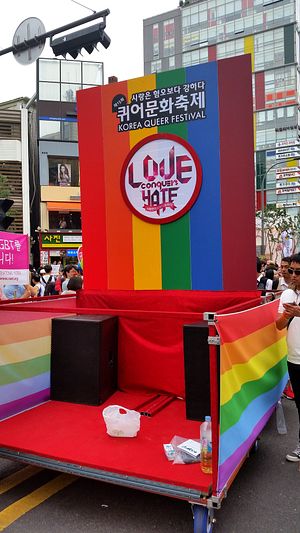 A planned gay pride festival has become the latest flashpoint of conflict between South Korean LGBT activists and conservative Christians, with the religious protestors attempting to book the venue to stop the event.
Protestant groups have vigorously opposed plans to hold a LGBT pride parade at Seoul Plaza on June 28, physically blocking applications for the necessary permits.
On May 21, police announced they would accept applications for public events at the end of June on a first-come, first-served basis at Namdaemun Police Station.
This prompted a group calling itself the "Love Your Country, Love Your Children Movement" to queue outside the station indefinitely to prevent the festival organizers from applying for a permit. A similar concerted campaign by Christian groups to book out public venues forced the postponement of the event from its earlier date of May 13, when it was scheduled to be held in a different part of the city.
The organizers for the Korea Queer Festival have already received the go ahead from Seoul Metropolitan government for the new date, but also need police approval to use the public space.
LGBT activists lined up outside the police station this week to register their parade and to protest the actions of the Christian demonstrators and the police, whom they have accused of favoritism.
Candy Yun, a member of the organizing committee for the festival, told The Diplomat that she suspects the police tipped off the Christian protestors in advance about the application procedure.
"When we called the police station for a complaint, one of the police officials said they decided to make a line [for submitting applications] because they got lots of complaints from the Christian groups."
She described the police handling of the situation as "ridiculous." She and other activists have claimed that police violently removed several activists on Wednesday when they attempted to speak with the chief of the station.
Finally, on Thursday, police accepted applications to use Seoul Plaza from both the festival organizers and the protesting Christians.
"We will also be protesting homosexuality," said Byun Byoung-tak, a pastor involved in the anti-LGBT protest. "But our most important goal is for Christians to repent and to communicate the gospel by discussing our opinion."
A decision on who will get to use Seoul Plaza, a historic site of protest in South Korea, is expected this weekend.
Though changing, South Korean attitudes toward homosexuality remain largely intolerant. A 2013 Pew survey showed 39 percent of Koreans support societal acceptance of homosexuality.