Southeast Asia Scrambles to Deal With Migrant Crisis
Up to 10,000 refugees may be adrift off the coast of Southeast Asian states without food or water.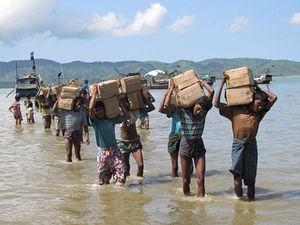 Up to 10,000 would-be refugees, many from Myanmar's Rohingya minority group, are believed to be adrift off the coast of Southeast Asia with little to no food or water, sparking talk of a humanitarian crisis.
Reporters for the New York Times approached one boat in the Andaman Sea and were greeted by "cries of 'Please help us! I have no water!'" Passengers told the journalists they had been on board the boat for six months and had been abandoned by the captain and crew, who had previously provided them with food and water.
The Jakarta Post reports that around 2,000 migrants have been rescued or intercepted by Malaysia or Indonesia – and some of that number jumped off their boats and made a desperate swim for shore. An estimated 8,000 – 10,000 migrants are believed to still be at sea, in dire conditions.
Regional governments have said that they are not able to take in any more refugees. According to Associated Press, Malaysia turned away two boats full of roughly 800 migrants while Thailand refused to accept a third boat. Indonesia also sent away a boat carrying "thousands of passengers," according to the New York Times. Human rights advocates have accused regional governments of playing "ping pong" with the refugees and warned of a looming humanitarian disaster should the refugees remain on the boats.
Both Malaysia and Thailand say they have given food and provisions to the refugees, though not allowing them to enter the country. Malaysia previously looked the other way, allowing Rohingya to enter its borders, but the scale of the current crisis appears to have changed that calculus.
Government officials say they simply cannot afford to take in migrants. "What do you expect us to do?" Malaysia's Deputy Home Minister Wan Junaidi Jafaar told AP. "We have treated them humanely but they cannot be flooding our shores like this… We have to send the right message that they are not welcome here."
General Prayuth Chan-ocha, Thailand's prime minister, had a similar message. ""If we take them all in, then anyone who wants to come will come freely… No one wants them."
Prayuth's message is painfully blunt, but captures the essential problem: no regional countries are willing to take in the refugees, fearing a massive influx of migrants would follow. The Rohingya, a Muslim population in Buddhist-majority Myanmar, are not even considered citizens of their home country. Instead, as Gemima Harvey wrote for The Diplomat last year:
The government vehemently denies the existence of a Rohingya ethnicity, referring to the group, even in official documents, as "Bengali." This stems from a pervasive belief that all Rohingya are illegal immigrants from Bangladesh, a conviction widely held despite records of Rohingya families living in Myanmar for centuries.
Facing violence and persecution in Myanmar, an estimated 120,000 Rohingya have attempted to flee the country since 2012, often by paying human traffickers to help them escape by boat. The current crisis is believed to stem from a recent crackdown on such human trafficking in Thailand, a common transit point for the migrants. Fearing arrest, some traffickers reportedly have simply abandoned their human cargo in the middle of the ocean.
Thailand has said it will host a regional summit on May 29 to discuss the crisis. But human rights activists warn it may be too late by then. Joe Lowry of the International Organization for Migration warned that time is of the essence: "if these people aren't treated and brought to shore soon we are going to have a boat full of corpses."