The Case for Stronger India-China Economic Relations
Can Modi's recent visit help India and China fulfill the bilateral economic potential?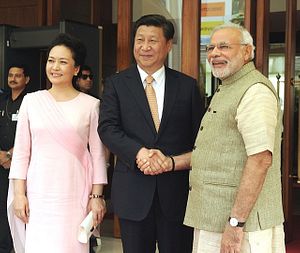 Indian Prime Minister Narendra Modi has completed his three-day visit to China, where he sought to upgrade India-China relations on a number of issues ranging from economic to military. The trip was a follow-up from Chinese President Xi Jinping's India visit in September 2014.
Although the two countries are considered political rivals, there have been some significant developments. In October 2013, for instance, China and India signed the Border Defence Cooperation Agreement (BDCA). The Agreement acknowledged "the need to continue to maintain peace, stability and tranquility along the line of actual control in the India-China border areas and to continue implementing confidence building measures in the military field along the line of actual control."
A year later, China and India were among 21 Asian countries to sign on to a new infrastructure investment bank (the Asian Infrastructure Investment Bank, or AIIB), which would compete with the World Bank. An Indian has already been tapped to lead the BRICS Development Bank, which will be based in Shanghai with starting capital of $50 billion.
Despite this most recent visit, China was unable to secure an Indian commitment to participate in the new Silk Road and the Maritime Silk Road projects. The Silk Road will run through Bangladesh, China, India and Myanmar (BCIM). China has also announced a $40 billion special fund for its Silk Road projects to develop an extensive network of highways, railway and ports in Asia and Africa. India cannot be seen to be isolated from this initiative, which will have significant implications for its India and its neighbors.
India's trade with China in 2000-01 was $2 billion, and it became $65.86 billion in 2013-14, with the potential to top $100 billion in 2015. This should mean tremendous opportunities for traders and investors in both countries. But India's trade deficit with China has increased from $1 billion in 2001-02 to $36.22 billion in 2013-14, and is expected to grow further to $48.43 billion in 2014-15.
India's emergence as an investment hub can be seen as average net inflow increased to $13.6 billion during 2006-2011, up from an average net inflow of $3.8 billion during 2001-2005. The average net inflow could rise to $22 billion by the end of 2015. This reflects rising demand and fresh business friendly initiatives by new government.
Between 2001 and 2005, China attracted foreign direct investment (FDI) that was 15 times greater than that directed at India, due to economies of scale. In absolute terms, the gap between FDI in China and India is expected to narrow to about $82 billion during 2011-2015, from $108 billion during 2006-2010.
There are numerous business opportunities for India and China, in sectors such as agriculture and food processing, asset management, construction and infrastructure, pharmaceuticals, electronics and information technology, and transport and logistics. India is a potential market for agricultural inputs like fertilizers and processed chemicals. In turn, Indian firms can focus on Chinese markets in processed and frozen foods and dairy products.
The pharmaceutical sector has huge business potential for both countries. India is a large importer of pharmaceuticals ingredients and intermediates (worth $3-4 billion annually) from China. Indian firms specialize in formulations development and finished dosages.
China and India can identify potential areas for economic collaboration where they can enjoy complementarities. By removing market barriers, they can improve transportation links and increase bilateral investment for closer economic relations.
Ram Kumar Jha and Saurabh Kumar are Policy Analysts at CUTS International and can be contacted at [email protected] & [email protected].