The Limits of India's Urge to Boycott Chinese Brands
The reality of Indian manufacturing – and consumption – makes such a boycott unrealistic.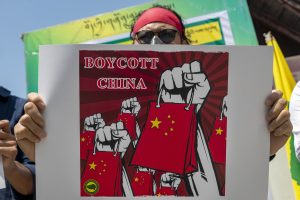 After China's People's Liberation Army (PLA) made its latest unwarranted trespass into terrain administered by India along the contentious Line of Actual Control (LAC) in May, Ladakhi educationist Sonam Wangchuk — who has his own relevance in India's popular culture — released a two-part video appeal on YouTube, imploring his fellow Indian citizens to do their bit in repelling the Chinese by abstaining from buying Chinese products. While resonating the Modi government's mid-lockdown clarion call for an "Atmanirbhar Bharat" (self-reliant India), Wangchuk's plea was more emotive than pragmatic, evident in its hope that a sustained avoidance of Chinese manufactured goods could eventually "liberate" Tibetans and Uyghurs from Beijing's thumb. Yet, India's netizens answered diligently, with the buy-local spirit finding celebrity endorsements on Twitter; the promotions of flagship Chinese brands defaced on Facebook; and the familiar #BoycottChina and #BoycottMadeInChina hashtags returning to social media trends. As the stand-off between Indian and Chinese troops spiraled late Monday into the worst bilateral confrontation seen in over four decades, an irate Confederation of All India Traders (CAIT) claimed that it has red-flagged 3,000 products which, if weeded off the Indian market, could cost China roughly $13 billion.
Calls to boycott Chinese goods are not new and resurface spontaneously after every publicized downturn in bilateral relations between the two most populous states of the world. #BoycottChina trended vigorously in October 2016 when Beijing once again blocked New Delhi's bid to get Masood Azhar, the founder of terrorist outfit Jaish-e-Mohammad, blacklisted by the UN Security Council's Sanctions Committee. When Beijing repeated the move in March 2019, India's social media spheres revived the quasi-mercantilist uproar. The retaliatory campaign, despite often existing only in brief spurts, proved to be more than a gimmick pedaled by keyboard warriors when a 2019 survey across 21 Indian cities by the CAIT claimed that the sale of low-cost Chinese-made paraphernalia – from LED strings to firecrackers — for the annual autumn festival of Diwali had fallen by 60 percent.
Though the ongoing online offensive has been shrugged off by China's Global Times, the logic behind it is both traditional and tactical. The boycott of foreign goods as a token of protest against foreign attempts at dominance is rooted in an Indian political instinct that even predates Mahatma Gandhi, who epitomized the abandonment of lucrative British exports with his strict advocacy of home-spun fabric during the Indian struggle for independence. Years before his rise, the more polemic Swadeshi (indigenous) movement — characterized by raging bonfires of Manchester-made apparel — was a popular response to the 1905 colonial partition of the Indian province of Bengal on communal lines. For years, the Indira Gandhi government withheld a major order for U.S.-made Boeing jetliners after the Nixon administration endorsed Pakistan's military junta during the 1971 war for Bangladesh's liberation.
None of these campaigns could hold permanent sway over commoners or companies, but their objective arguably was to tactfully pinch — if not permanently cripple — the soft power prowess of a state perceived as an oppressor or adversary. In his conceptualization of "soft power," Joseph Nye, Jr. underscores the existence of a degree of bilateral convergence, at least on certain fundamental values, as a prerequisite for an affable flow of soft power benefits from one nation-state to another. The flow becomes liable to disruptions whenever a dispute wedges itself between such convergence. In times of international distress, Indians, thus, initiate disruptions such as #BoycottChina to remind an aggressive state with a comparative export advantage about their sheer collective vastness as a market. Whether the approach is Gandhian or plainly populist is fodder for a separate debate, but India is hardly alone in employing it, as suggested by the Trump administration's pre-COVID-19 insistence on "America First" – or, for that matter, China's own use of boycotts to express its displeasure with foreign countries like South Korea, Australia, or Japan.
Given India's persistent limitations in manufacturing and China's alacrity with retaliatory barriers, New Delhi finds it unwise to bolster the civil society-led boycott bids by slapping tariffs against China, as it is the largest supplier of India's imports and the third-largest absorber of its exports despite the cartographic friction and strategic incompatibility. Further, from footwear to phones, SUVs to solar panels, Chinese inputs remain entrenched in the supply chains of leading corporate manufacturers even amid post-globalization shifts. Consequently, most gadgets and appliances filling Indian households, at the very least, bear a Chinese imprint in some form. Six of the 10 smartphones preferred most by Indians in 2019, for instance, came from explicitly Chinese brands, while two others were assembled in China by virtue of being Apple products. One of them, Oppo, became the principal sponsor of the religiously regarded Indian cricket team in 2017. Their current replacement on the national jersey is Byju's, an Indian ed-tech start-up backed by a Chinese financier, much like over a dozen other Indian unicorns.
Bearing this in mind, in April, while the Indian government revised its foreign direct investment regulations to enhance the scrutiny of fresh applications from Chinese investors, it spared those already invested in India. Despite India's consumer spending dipping as well as its GDP facing shrinkage for the first time in four decades, the 15,000-strong stock of smart TVs from China's Realme sold out within a record 10 minutes of its India launch. Likewise, 10 hours into the unveiling of Xiaomi's latest laptop, a YouTube review of it in Hindi drew a quarter million hits. More oddly, the Indian government stunned its online advocates after it was found running an official "MyGov" outreach page on the controversial Chinese social media platform, TikTok, just as #BanTikTokInIndia trended.
Matters, however, continued to plummet, with a fierce clash of the two armies on Monday night reportedly causing sizable casualties on both sides, including the death of 20 Indian soldiers. Bilateral diplomacy swiftly elevated to the highest levels, and shortly after a discussion between the foreign ministers of both states, Beijing stated that it wished no further violence. Meanwhile, a couple of fresh advancements in India-China cooperation were made. First, China's Great Wall Motor (GWM) signed an MoU, in the presence of the Chinese ambassador to India, with the state government of Maharashtra to invest $1 billion. Second, the Shanghai Tunnel Engineering Company Ltd. (STEC) won a bid to develop an underground stretch of the Delhi-Meerut metro corridor. While demands to revoke such deals have already emerged, the Indian government perhaps senses that heeding such calls will only serve to quash much needed job-creation. GWM, for instance, estimates that its factory near Pune and its R&D facility at Bangaluru shall eventually employ 3,000 people.
Unless it crumbles under the prevailing economic uncertainties linked to COVID-19, the size of India's middle class — its most demanding and aspirational consumer base — is forecast to exceed half a billion by 2025, with over half the nation's households earning "$8,500 per annum" by 2030. And unless India pulls off a Wirtschaftswunder in its manufacturing by then, this booming market shall continue to seek, as an Indian expression goes, "sastaa, sundar, tikaau" (affordable, decent, durable) products, which are often a specialty on China's soft power menu. Ironically, some constituents of this market may not shy away from Tweeting #BoycottChina from their Chinese smartphones to voice their angst when a tussle between New Delhi and Beijing occurs at a global forum or along the contested frontiers between them. While the ongoing tussle marks a new low in India-China tensions, successive generations have now witnessed several such tussles, only to be followed by the two nuclear neighbors with enormous and enmeshed economies preventing passions from prevailing over conventional rationality.
This article has been updated to reflect the latest events.
Anubhav Roy is a Ph.D. candidate at the Department of Political Science, University of Delhi.