The Trial of Zhou Yongkang: How to Flog a 'Dead' Tiger?
Given the political sensitivities involved, Zhou's trial is expected to be a tightly choreographed affair.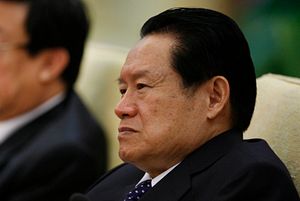 As a prelude to their former patron's own impending trial, the incongruous court performances by Jiang Jiemin and Tao Yuchun – two of a number of intermediaries Zhou Yongkang had commissioned to run his affairs in the country's energy sector after leaving the China National Petroleum Corporation (CNPC) in 1998 – provide the most striking of contrasts, and would have given the Chinese Communist Party (CCP) much food for thought on how best to direct the upcoming proceedings against one of their most powerful former party leaders. While Zhou can be expected to receive a heavier sentence than his minions get, the political nature of his indiscretions also mean that a more tightly choreographed trial is in order.
That it has taken this long to press formal charges on Zhou can be explained by the high political stakes entailed. Not unlike his former subordinates, however, Zhou's verdict is likely to have been decided prior to his sentencing by the party-appointed judiciary. To be sure, Zhou's former power bases together with the "Petroleum Gang" – the Sichuan provincial government and China's internal security forces – have long been dismantled; it is thus more than likely that the evidences necessary to indict Zhou have been established. Regardless, trying a former member of China's political elite will not be a straightforward affair.
What Kind of Trial Then?
Since being indicted, speculation has been rife regarding Zhou Yongkang's purported attempts – along with other "big tigers" – to subvert Xi Jinping's political ascent. That would include leaking information that led to a Bloomberg report in 2012 detailing the financial assets of Xi's family members, as well as Zhou's spying on a number of Chinese state leaders during his time as the head of the country's domestic security apparatus. Indeed, in his previous position as China's security czar, Zhou would have been well placed to carry out such acts of sabotage.
As things stand, Zhou's arraignment will center on bribery, abuse of power, and the intentional disclosure of state secrets. Of the three, revealing confidential state affairs carries the greatest ramifications since they would reveal the inner workings at the upper echelons of the CCP. This necessarily means that only the first two charges will go to trial while the inquest into the third is held behind closed doors. This begs the question: Would Zhou adopt Tao Yuchun's truculent stance during his show trial, or follow Jiang Jiemin's example and admit to his charges? Zhou's anticipated courtroom performance would no doubt be a key consideration for the authorities in directing the proceedings.
How Not to Try a Fallen Tiger
To be sure, Zhou Yongkang's political fate was sealed once the fall of another former CCP leader had been confirmed. While much has been made about how the former had arranged for Bo Xilai to take over his security portfolio in the Politburo Standing Committee (PSC), Zhou had also stuck by the former Chongqing chief by exonerating him from the political fallout from the Wang Lijun affair. In the aftermath of Wang's escape to a U.S. consulate in 2012, Zhou is believed to have directed his protégé to discredit Wang by falsifying information regarding the latter's state of mind. It has even been alleged that Zhou may have tried to give the party the slip by tipping off his acolyte after party elites decided to move on Bo.
Bo Xilai's trial two years ago also offers a lesson on how not to try Zhou. Lest the latter stray off the planned proceedings in the same manner as the fallen princeling – who had attempted to draw attention away from his well-known ambitions to supplant Xi Jinping – the CCP would want to make sure that Zhou sticks to the script. Indeed, how best to extract a concession from a "dead tiger" without casting more doubts on the unity of the party and the integrity of China's legal system is expected to weigh heavily on the minds of the authorities. By all accounts, the powers that be would not want the true nature of Zhou's catalogue of crimes to see the light of day.
The Death Sentence for Zhou?
Although it remains unclear what sort of example Xi Jinping will make out of Zhou Yongkang, we can be certain of a few things with respect to the latter's "open trial." In light of criticisms pointing to the easing off of the ongoing anti-graft campaign, Xi will most certainly elicit the hearing to reinvigorate his political legacy of hitting "tigers" and "flies". For all intents and purposes, Xi would also be keen to make use of Zhou's example to demonstrate to the Chinese public his resolve in tackling endemic official corruption. As Bo's political mentor, Zhou's penalty can therefore be expected to be harsher than that imposed on his disciple, who was sentenced to life imprisonment in 2013.
Still, the death penalty is by no means a forgone conclusion. Discrepancies in Zhou's latest charges and the earlier allegations dating from December 2014 provide the clearest indication yet that he may already have acquiesced to his accusers. While the three issues that fail to make the later rendition – violating the party's political, organizational and confidential discipline; leaking party secrets; and trading money and power for sexual favors – cannot be tried in a court of law, the watered-down charges nevertheless point to the likelihood that Zhou will receive a suspended death sentence. Keeping the tiger alive is also preferable since Zhou could then be held hostage against his former political patrons.
Whither Xi's Campaign?
While Zhou's alleged abuse of power and siphoning of state assets have been depicted as an infringement on the public interest, the timing of the announcement of his indictments to coincide with the National People's Congress and the Chinese People's Political Consultative Conference means that the message may well have been directed at Chinese officialdom instead. Seen from the perspective of standing party leaders, Zhou's impending trial serves as a warning to the former that the incumbent CCP general secretary will spare no effort to remove anyone who may still harbor hopes of dislodging him. Quite significantly, how the CCP eventually flogs a "dead" tiger will give the clearest indication yet of Xi's next big move.
James Char is a research analyst with the China Programme at the S. Rajaratnam School of International Studies (RSIS), Nanyang Technological University (NTU). He is the inaugural Wong Wai Ling Scholar in the Masters of Arts in Contemporary China (MACC) at NTU. His current research interests center on Chinese domestic politics, civil-military relations in China, and China's diplomatic strategies in the Global South.