The View from Tehran
In Tehran, domestic hardliners and moderates are debating the nuclear issue, and the future of Iranian foreign policy.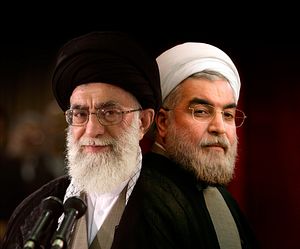 Tehran is full of anticipation as the June 30 deadline for a nuclear deal between Iran and the P5+1 approaches. But to say that the two main political factions in the Islamic Republic – the moderates and the hardliners – share the same assessment about the possibility for a final deal and its utility for Iran is to gloss over a more fundamental schism within the Islamic Republic about the future international identity of the country and its relations with the United States in particular.
Hardline Faction
The moderate government of President Hassan Rouhani was quick to hail the April 2 interim agreement reached in Lausanne as a major stride toward Tehran's return to the global mainstream. That was, after all, Rouhani's key promise in his 2013 election campaign, most lucidly revealed to the world in his speech at the World Economic Forum at Davos in January 2014.
"New cooperation with the world, both in the nuclear sphere and other areas, will open a new page," Rouhani assured an anxious Iranian populace after the Lausanne agreement was announced.
As he has done from the outset in his presidency, Rouhani made sure he attributed the agreement to the policies and support of Iran's top political authority, Supreme Leader Ayatollah Khamenei. Rouhani, fully aware that his political agenda is beholden to the goodwill of the supreme leader, publicly congratulated Khamenei for the deal in a clear attempt to tie the leader to the diplomatic breakthrough.
But Khamenei was having none of it. Within a week he issued a not-so-subtle rebuke and said it was premature to congratulate him when nothing had, in fact, been achieved. "I am neither for or against the [Lausanne] framework," he said. Khamenei made sure he was clear in that, for him, swift sanctions relief is the only barometer for success as the talks continue.
The supreme leader's reprimand has since set the tone for hardliners who have from the beginning been critical of Rouhani's nuclear agenda and doubtful about his team's negotiating tactics with the P5+1, specifically their overtures toward the Americans. Kayhan, a hardline paper whose chief editor is hand picked by Khamenei, came out with a forceful denunciation. Kayhan's editor, Hossein Shariatmadari, was quite brusque. In Lausanne, Rouhani's team had swapped a "ready-to-race horse with a broken bridle," he charged.