Will Thailand Realize Its Submarine Quest?
Bangkok inches closer towards realizing its long-deferred dream.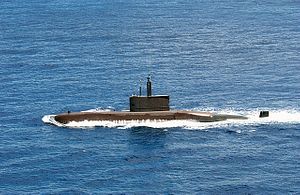 As I have written previously, Thailand has been looking to procure up to three submarines by the end of the decade, finally giving the country a capability it has lacked for more than sixty years.
As I wrote then, Thailand has lacked a submarine capability since 1951 and has tried but failed since the 1990s to ink submarine deals with several countries, including most recently Germany and South Korea. While it is clear that Thailand's submarine quest has once again become a top priority under the ruling military junta since it took over last May, past experience suggests that renewed efforts in this direction ought to be viewed with caution.
Yet recent reports suggest that Thailand's submarine plans are surging ahead. Last week, the Thai navy formally submitted its request to the Thai government for cabinet approval. The navy has also set up a submarine procurement committee headed by the assistant commander-in-chief of the RTN, Admiral Narongpol na Bangchang. The Bangkok Post cited an unnamed source as saying that this committee can be expected to look at potential deals from several countries and make a decision within three months.
While any number of concerns could get in the way of Thailand's submarine quest, Thai defense minister Prawit Wongsuwon, known to be a strong backer of the submarine quest, has reportedly put the odds of the country achieving its submarine quest at more than 50 or 60 percent. That's pretty bullish, considering the country's past record.
Of course, there is still a long way to go. We still do not have much additional clarity on where the submarines will be bought from, except that various players have been providing more information to Thailand as it deliberates. Previous reports had suggested that based on a budget of around 36 billion baht ($1.1. billion), the South Korean Bogo Class submarine might be preferred, and more recent ones have cited naval sources as saying that Bangkok views Chinese submarines as too unreliable. And as Thai navy chief Admiral Kraisorn Chansuvanich recently pointed out, even if the government were to approve the submarine purchase today, time will be needed to build the ships and send personnel for training for one or more years, which means that it will take five or six years before they can enter the service.
Given this, Kraisorn urged the government to approve the submarine purchase soon. He once again repeated how important this capability would be for Thailand's defense, particularly given that several of its neighbors have had submarines for years. It remains to be seen, however, whether these considerations will be overridden once more by other concerns and delay Thailand's submarine quest yet again.