Thailand Eyes Submarine Fleet
Is Thailand about to realize its long-deferred dream of acquiring submarines?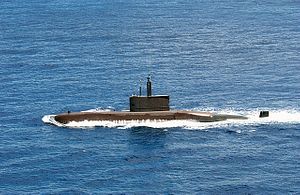 Thailand may look to procure two or three submarines as part of an increased 2016 defense budget, finally giving the country a capability it has lacked for more than sixty years, The Bangkok Post reported Friday.
According to a source from Thailand's defense ministry, the Royal Thai Navy (RTN) is expected to propose the procurement of two to three submarines in the 2016 budget, with the country's defense minister Prawit Wongsuwon already backing the plan in principle pending cost considerations. The navy has been considering submarines from various sources, but the South Korean Chang Bogo Class submarine is reportedly the least expensive at around $330 million each.
To the seasoned observer, Thailand's plan to acquire submarines is neither new nor surprising. Lacking a submarine capability since 1951, the country has tried since the 1990s to ink submarine deals with several countries, including most recently Germany and South Korea. Though they eventually did not materialize, many were expecting Thailand's submarine quest to once again become a top priority once the ruling military junta seized power in a coup in May 2014.
Since then, all signs have pointed to the RTN preparing for an anticipated purchase of submarines. In July 2014, it officially launched a multi-million dollar submarine training center, a significant boost to its incremental capacity-building efforts, which have included sending officers abroad to South Korea and Germany for training courses. On November 20 last year, which marks Royal Thai Navy Day, Thailand's navy chief Kraisorn Chansuwanich revealed that he had revived plans to procure submarines and presented his proposals to defense minister Prawit. Prawit had reportedly agreed with the plan but had instructed the navy to present detailed studies on the types of submarines it wanted and their costs to see if they were affordable.
Despite previous doubts about Thailand's submarine quest, some officials insist it makes strategic sense and ought to be pursued urgently. They say submarines would help Thailand ensure the freedom of navigation in the vital Gulf of Thailand, which could be disrupted if, for example, lingering territorial disputes in the South China Sea spiral out of control with spillover effects. They could also help protect critical infrastructure as Thailand continues its involvement in the Dawei deep sea port project in Myanmar over the next few years.
More broadly, submarines can also serve as an effective deterrent and protect Thailand's sovereignty at a time when many of its neighbors either have or are quickly developing submarine capabilities. Malaysia, Singapore, and Indonesia already have submarines, Vietnam has begun receiving its Kilo-class submarines from Russia, and even the Philippines – traditionally a laggard in this respect – is also eyeing such capabilities. The "keeping up with the Joneses" factor that partly drives Southeast Asian military modernization trends ought not to be discounted, even if it is not often publicly acknowledged by officials themselves. For all the rhetoric about ASEAN solidarity, military buildups are as much about wariness of, and competition between, each other as they are about external threats like China or other transnational concerns.
Even so, past experience suggests that renewed efforts in this direction ought to be viewed with caution. The high price tag of actually buying submarines still remains a major concern, even if doing so is now a more urgent priority. Internal differences between various actors within government have complicated plans before, and could do so again. And with political stability in Thailand hardly assured, there is no guarantee that the current government will be in place long enough to actually follow through on its intended objectives. As Thailand continues pursuing its long-deferred dream of acquiring submarines, past may yet again prove to be prologue.