ASEAN Move on Rohingya, Slow But Forward
The bloc takes some tentative steps, with a welcome dose of common sense from Mahathir Mohamad.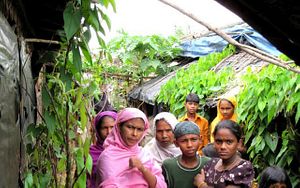 For decades ASEAN and its policy of non-interference in a neighbor's affairs has been the focus of heated criticism, widely seen as an excuse that allowed countries behaving badly on the human rights front to carry on without fear.
That came to a head with Myanmar's abysmal treatment of its Rohingya population, the exodus of an estimated 25,000 people, and the subsequent discovery 139 graves at 28 hidden transit camps along Malaysia's northern border with Thailand. Another 3,000 swam ashore from rickety boats.
Improved cooperation between the countries followed an international outcry and demands that ASEAN must help in resolving the issue. That resulted in Thailand handing over suspected leaders of several human-trafficking syndicates to Malaysia.
Malaysian Home Minister Ahmad Zahid Hamidi says authorities are now compiling cases and investigating the suspects before they launch any prosecutions.
One key suspect was identified as Yassin, an ethnic Rohingya Muslim allegedly involved in human-trafficking who escaped into Thailand where police were searching for him.
Importantly, investigations followed a decision by Malaysia and Indonesia to provide temporary shelter for stranded Rohingya and Bangladeshis, ending a policy that turned boats back out to sea, also known as "shooing." Thailand also said it would no longer turn boats out.
The U.S. then stepped in, saying it would lead a UN resettlement program after appeals by UN chief Ban Ki-moon. Countries as far flung as Gambia agreed to take refugees and Pope Francis compared their plight with the Christian Yazidi people in Iraq who have suffered horrendously under Islamic State occupation.
Even Mahathir Mohamad – the former Malaysian prime minister who has been on the receiving end of much criticism in recent years – was sensible in his approach, arguing the ASEAN policy of non-interference should be put aside when it involved mass killing.
"What happening to them is so terrible that nothing could describe it." He added, "If Myanmar wants to commit genocide, then leave ASEAN."
That elicited a terse response from Myanmar's Deputy Foreign Minister U Thant Kyaw, whose government refuses to recognize the Rohingya Muslims as genuine citizens of Myanmar, although they have been settled in the country's north since the 16th century.
They were denied citizenship in 1982 when General Ne Win and his military government enacted the Burmese nationality law.
With a schoolboy, incomprehensible logic, Kyaw claimed that the 89-year-old Mohamad's views might be because of his age.
"I don't understand why he spoke like that because Myanmar has been cooperating with all member countries for resolving those problems right now and Myanmar has already stated that no country should be singled out through finger-pointing," he said.
"As you know, ASEAN does not make decisions without consensus. Therefore, it is impossible to expel Myanmar from ASEAN."
Singapore's ever cautious Prime Minister Lee Hsien Loong said ASEAN countries could work together, influence and encourage each other – but old arguments still die hard. He stressed the group could not solve all the problems nor compel any member to act in a certain way.
Yet it was pressure bought by ASEAN and the rest of the world on Myanmar that prompted Yangon to curb the exodus of thousands of people.
But given Kyaw's comments and media reports from elsewhere few believe the government of Prime Minister Thein Sein is prepared to act on improving the lot of Rohingya at home.
Unless that situation is resolved, with full recognition of the Rohingya as citizens of Myanmar, then the tragic events of recent months with thousands stranded and starving at sea – and inside ASEAN's maritime borders – will only be repeated. Which is why Mahathir's proposal to jettison Yangon should be given serious consideration.
Luke Hunt can be followed on Twitter @lukeanthonyhunt