Australia's Foreign Aid Cuts Could Be Costly
The country's budget cutbacks are likely to have some far-reaching repercussions.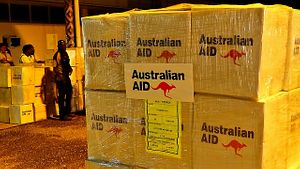 An article this week in the Financial Times effectively summarizes the situation for Australia's foreign aid agencies, noting that Canberra has "earmarked $8.4 billion in foreign aid cuts" for the years up until 2018. The reductions in Australia's aid budget will reduce Australia's overseas aid by about one third, as compared to aid figures in 2012, according to research by Australian National University. The cuts are being made as Canberra is struggling to maintain budget discipline, and as the Australian economy is buffeted by a global fall in commodity prices and the slowdown in the Australian real estate market. Some budget cuts thus are probably necessary, and would have been implemented by any Australian leader in office at this time.
The cuts are substantial. As The Guardian reports, "according to the "generosity index" compiled by Stephen Howes, a development economist at the Australian National University, by 2017-18 Australia's budget would be the least generous in the history of the country's formal aid program, with a ratio of 0.21. The generosity index measures aid relative to gross national income (GNI)."
As the FT notes, Australia is one of the most generous donors among wealthy countries, and these cuts come at a time when many other rich countries also are slashing their overseas assistance. In a recent report, the Organization for Economic Cooperation and Development warned that, while development aid figures were stable in 2014, aid to the poorest nations fell last year, and aid to these least developing countries is likely to continue falling for several years.
In addition, in many countries in Asia Australian aid and expertise are even more valuable than actual figures can reveal. Australian aid programs rely on Australian expertise in Southeast Asia and the Pacific as well as Australian volunteers, and the country, naturally so close to Southeast Asia and once the colonial power in many Pacific states, produces far more experts in these regions than other big OECD donors. (China is not an OECD member, but it also now turns out vast numbers of experts on Southeast Asia and the Pacific.) Australia also has been willing to take the lead in new areas for aid in the region, being one of the first rich democracies to attempt to have a human rights dialogue with the Myanmar government and to consider new aid disbursements to Myanmar, well before Naypyidaw's reform process began in earnest.
Australia also dominates the total pool of aid in some of the most vulnerable countries in Southeast Asia and the Pacific, meaning any cuts will have a disproportionate impact on these nations. In Papua New Guinea, where Australia plans to cut its assistance by five percent, Australian aid accounts for as much as seventy percent of all overseas development aid. (The exact figure is not known, as it is difficult to completely assess China's aid to Papua New Guinea.) Similarly, in Indonesia, where Australia is either the third or fourth largest aid donor, Canberra plans to cut assistance drastically, by around forty percent, between fiscal year 2015 and fiscal year 2016.
How will Australia's cuts impact its influence in Asia, where it has long used it expertise and its aid to punch above its weight on regional affairs? Aid cuts will likely have a follow-on effect, reducing the number of Australians going abroad to work on aid projects in the region, and thus diminishing Australia's soft power. At a time when no one is stepping forward in the region to lead on critical issues like migration, democracy and rights in changing nations like Myanmar, or regional economic integration, will Australia's retreat make addressing these challenges even more difficult?