Australia's Growing Ties With Northeast Asia
It is at the intersection of commercial and hard-security interests that Australia's relationships with Japan and South Korea are finding their increasing health.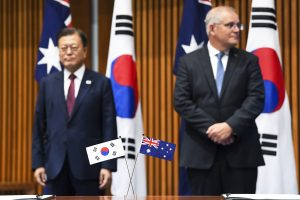 State and official visits have obviously been limited over the past two years due to the COVID-19 pandemic. Presidents and prime ministers have found themselves mostly grounded at home, with the exception of major summits like the G-20 in the United Kingdom in June. Yet as the world moves into a phase of living with COVID-19, rather than seeking to eliminate it, the normalization of these visits is resuming. With this normalization, keeping an eye on who is going where can reveal a lot about a country's priorities. 
In mid-December South Korean President Moon Jae-in made the trip to Australia to meet with Prime Minister Scott Morrison, and in the first week of January Japanese Prime Minister Kishida Fumio will be doing likewise. Given that Northeast Asia is overwhelmingly where the bulk of Australia's trade is located, and Canberra remains uneasy about China's assertiveness in the broader Indo-Pacific, it is clear that for Australia the region is of primary concern.
The Moon and Kishida trips also indicate that both countries see Australia as a significant strategic partner. Their trading relationships with Australia are of great importance, and in particular their respective security partnerships with Australia are highly valued and are being given major priority.
Australia's security partnership with Japan has steadily grown in the past decade. It is clear that the two now see each other as their primary security partner, alongside their respective alliances with the United States. During Kishida's forthcoming visit he and Morrison are expected to sign the Reciprocal Access Agreement that was agreed to in principle in November 2020. The agreement will deepen the coordination and interoperability of the two countries' militaries, allowing for the stationing of military personnel on each other's territory. Japan only currently has this type of arrangement with the United States. 
Moon's visit also involved the signing of a major defense agreement, a $726 million contract for South Korean defense manufacturer Hanwha to build 30 self-propelled howitzers and 15 armored ammunition resupply vehicles for the Australian military. This is the largest military equipment deal Australia has struck with an Asian country, and a major step in defense cooperation between the two countries. 
In recent years South Korea has shifted its defense structure away from having a sole focus on potential conflict with North Korea and toward greater investment in the security of the wider Indo-Pacific. This has involved significantly enhancing its security partnership with Australia.
Canberra and Seoul are increasingly seeing their strategic environments in a similar way. Both are staunch U.S. allies that are concerned about Washington's current internal difficulties, and are demonstrating a willingness to enhance their own defense capabilities in response. This response is also driven by a concern about Chinese assertiveness, as both Australia and South Korea have been subject to attempts at economic coercion from Beijing, and are wary of its intentions in the South China Sea and toward Taiwan. 
While South Korea will always be more restrained than Australia with its criticisms of China's behavior, this does not mean that Seoul doesn't share Australia's concerns. Seoul has a more complicated relationship with Beijing, not just due to its geographic proximity to China, but because it remains in need of China's diplomatic leverage over North Korea, making it far more difficult for Seoul to commit itself to security alliances like the Quad, involving Australia, the U.S., India, and Japan. 
South Korea's relationship with Japan also complicates this further. The persistent tensions between Seoul and Tokyo add a further complication to Australia's own Northeast Asian calculations. Shared strategic interests between South Korea and Japan have not been able to subdue the historical tensions between the two countries, making Australia's ability to coordinate trilateral partnerships in the region more difficult. 
With Australia's economic interests bound to Northeast Asia, its security focus is obviously also preoccupied with the region. Maintaining the unimpeded flow of trade between itself and Northeast Asia is a national priority, and the interest that both the Japanese and South Korean high-tech industries have in Australia's rare earth minerals means that the two countries are also heavily invested in trade with Australia. It is at the intersection of commercial and hard-security interests that Australia's relationships with Japan and South Korea are finding their increasing health.