India, Japan and the Geopolitics of Asian Security
Ankit Panda and Jeff Smith discuss India-Japan relations and the geopolitics of Asian security.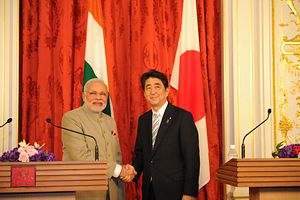 Host and editor Ankit Panda speaks to Jeff Smith, the director of Asian Security Programs at the American Foreign Policy Council, about India-Japan relations and India's relationship with the United States and China. The conversation begins with a discussion of perceptions of New Delhi in Tokyo and vice versa. Smith and Panda discuss Indian foreign policy under Narendra Modi more broadly, including toward China. The conversation additionally focuses on the topic of trilateralism between India, Japan and the United States, and India, Japan and Australia.
Click the arrow to the right to listen. You can also subscribe to The Diplomat's Asia Geopolitics podcast on iTunes here. If you like the podcast and have suggestions for content, please leave a review on iTunes.