Nepal's Crusade Against Human Trafficking
To bring back Nepal's girls, NGO's need to cooperate on poverty, poor education and gender disparity.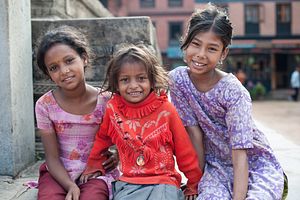 Among Nepal's less than 28 million people, seven million live in want. This is especially true in villages, where poverty is coupled with poor education, and girls in their early teens are often traded off for marriage – or lured out of the homes by prospective job opportunities. False hopes lead them to an even more abysmal situation – brothels in India.
The worst kinds of things that can happen to women: violent rape, STDs, unintended pregnancies, having newborns taken away, happen to the victims of trafficking. The Diplomat's Kiran Nazish gave a more personal account of this in her article "Women and Girls, A Commodity: Human Trafficking in Nepal."
There are 200,000 Nepalese girls trapped in Indian brothels, and 7,000 more are added each year, according to UNICEF.
Since the 1990s, a host of anti-human trafficking NGOs have been created in Nepal. According to its founder, Maiti Nepal has rescued 25,000 women and girls and intercepted 25,000 more at the borders. The word "Maiti" means a married woman's parents' home, and represents love and warmth.
But rescue is only the start of an arduous trip to recovery. Like many other NGOs, Maiti Nepal is devoted to rehabilitating the women and girls back into their regular lives in the community, with programs for professional training and employment within the organization.
In May, Maiti Nepal reached an agreement with a local company to launch an agriculture project where women associated with the NGO will receive priority in hiring. "This is a step forward to uplift the under-privileged women of the country and provide them with the right base for a better life," the company said in a statement.
However, the complexity of the problem means that the solution goes beyond the courage to carry out a raid in a brothel with mafia security, and beyond the goodwill to support the rescued in a caring, safe environment.
Despite the support of organizations like Maiti Nepal, many people still find it hard to go home. First, they can't find jobs, with the professional training received consisting mostly of knitting and weaving in the organization's building. Moreover, they usually find the society unwelcoming, and many NGOs are accused of failing to respect the will of individuals during and after the rescue.
The main cause of the problem is not poverty but gender disparity, says Anuradha Koirala, who founded Maiti Nepal in 1993. "There are also no job opportunities and there is no education. There is gender disparity, a lack of literacy, and then, of course, poverty."
The larger picture of Nepal's battle against sex trafficking can be a bit chaotic, since the numerous NGOs fail to work together, and some are not quite productive on their own.
"Everybody is just doing their own thing, following the money, and it's very sensationalized and it really causes more chaos than help in a lot of ways," says Professor Michelle Kaufman at Johns Hopkins University.
The rising cause of Maiti Nepal has certainly empowered Koirala, herself a victim of domestic violence. But it will take quite a bit more to save and empower more women in Nepal.